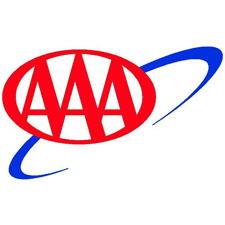 The national average price of gas has dropped for 50 days in a row (through Friday), a cumulative decline of 44 cents, which is the longest consecutive decline since 2008.
Friday's national average for regular unleaded gasoline is $2.91 per gallon, which is the lowest price since Dec. 3, 2010. Motorists are paying four cents less than one week ago, 28 cents less than one month ago and 28 cents less than one year ago.  The price at the pump has dropped 79 cents from the 2014 peak of $3.70 (April 28), which represents an estimated savings of more than $250 million each day for American motorists.
"Global crude oil declines continue to fuel a drop in gas prices across the country, which is always welcome news for motorists, especially as we head into the holiday season," said Martha M. Meade, Manager pf Public and Government Affairs for AAA Mid-Atlantic.  "AAA expects gas prices will continue to decline in the coming weeks, barring any unforeseen events, which could make for the lowest Thanksgiving prices since 2009."
Fueling the welcome decline in gas prices has been the multi-month drop in crude oil costs with prices dropping to the mid-$70 per barrel range, which compares to a 2014-high of more than $107 per barrel on June 20.  Adding momentum to falling prices last week was an unexpected move by Saudi Arabia, the world's largest oil exporter, to lower the price per barrel for crude sold to the United States. Market watchers are now focused on the upcoming meeting of the Organization of the Petroleum Exporting Countries (OPEC) with analysts paying close attention to how the cartel will respond to falling global prices. At the close of Friday's NYMEX formal trading session, crude oil settled at $75.82 per barrel, down nearly four percent on the week.
The Energy Information Administration (EIA) noted in its weekly report that crude oil inventories dropped 1.7 million barrels to 378.5 million barrels.  Domestic output hit 9.063 million barrels per day (bpd) last week, the highest since the winter months of 1986, when production was less than 100,000 bpd higher at 9.137 million bpd.  Gasoline inventories saw a 2.5 million build to 203.6 million barrels.  Gasoline demand remains solid and is likely to continue with the retail price dropping.  Last week, gasoline demand came in at 9.005 million bpd, a drop of a little more than 150,000 bpd, but the overall number is close to where it was a year ago.
AAA expects gas prices will continue to drop in the coming weeks, perhaps as much as 5-10 cents per gallon in some areas.  Currently 75 percent of the country's gas stations are reporting prices below $3.00 per gallon, compared to 21 percent a year ago.  A decrease in retail gasoline prices is often likened to a tax cut because it can inject billions of dollars in non-gasoline spending into the economy, which could help consumers just in time for the holiday travel and shopping.
CURRENT AND PAST GAS PRICE AVERAGES
Regular Unleaded Gasoline (*indicates record high)
11/16/14

Week Ago

11/9/14

Year Ago

11/16/13

National
$2.89
$2.93
$3.21
Virginia
$2.70
$2.73
$3.10
Charlottesville
$2.72
$2.77
$3.04
Norfolk Area
$2.75
$2.77
$3.10
Richmond
$2.62
$2.62
$3.07
Roanoke
$2.68
$2.70
$2.99
Crude Oil
$75.82

per barrel

(at Friday's close, 11/14/14)

$78.65

per barrel

(Friday 11/7/14 close)

$93.76

per barrel

(11/14/13)