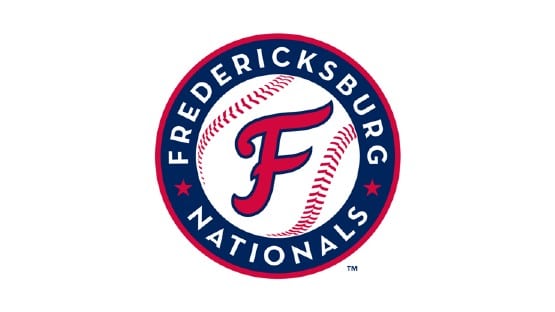 The Fredericksburg Nationals opened up their week-long series with the Charleston Riverdogs with a 5-4 win on Tuesday.
The Riverdogs, the Low-A affiliate of the Tampa Bay Rays, chased FredNats starter Riley Cornelio in the top of the first. Xavier Isaac and Dominic Keegan both reached base, then Carlos Colmenarez singled to load the bases. After a strikeout, Ryan Spikes singled into left field to plate Isaac, and prompted a pitching change. Jose Atencio entered, and got the last out in the first to limit the damage to just one run.
In the top of the second, Chandler Simpson singled and stole second base for his 36th successful attempt this season. Then on an infield single by Isaac, an E6 allowed Simpson to score from second.
Jonathon Thomas drew a bases-loaded walk to get the Nats, the Low-A affiliate of the Washington Nationals, on the board in the home half of the second.
From there, the game held scoreless until the bottom of the fifth. Daylen Lile kicked things off with a double, then moved to third on a wild pitch. Next, Elijah Green blasted a double back up the middle to tie the game at 2-2. He took third on another wild pitch, before scoring on a Cortland Lawson opposite field single to go ahead 3-2. Paul Witt made it a 4-2 edge with his solo home run in the bottom of the sixth.
The Riverdogs rallied in the top of the seventh, loading the bases with a walk, single, and E4. Franklin Marquez induced a double play that scored one run, but Colmenarez tied the game with his double back up the middle.
But in the bottom of the seventh, Lawson singled with two outs. Roismar Quintana followed Lawson with a screaming double off the wall in left field, and Lawson hustled in to score the go-ahead run from first base.
Franklin Marquez stranded a runner on third base to keep a one-run lead in the eighth, then Marquis Grissom Jr. locked down his first career save in the ninth.
Marquez improved to 4-0 on the year, while Jeff Hakanson was handed his first loss.
In Game 2 on Wednesday, Bryan Sanchez takes on fellow righty Marcus Johnson.