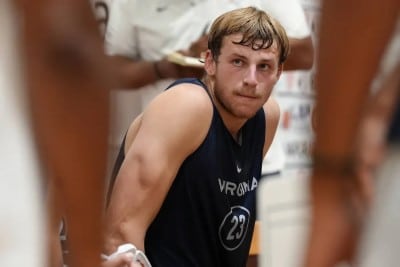 It didn't take long for former Virginia big man Isaac Traudt to get over his homesickness. The 2022 Nebraska Gatorade Player of the Year is transferring to Creighton, a two-hour drive from Grand Island, where he starred in high school.
Traudt, a 6'10" four-star power forward, did not play as a true freshman this past season. Coach Tony Bennett, in the first week of the season, had indicated it was a mutual decision between himself and Traudt for the Grand Island, Neb., native to redshirt this season.
Traudt, the No. 57 recruit in the Class of 2022, according to On3.com, had been linked to Creighton even before he made his decision to enter the transfer portal official.
"I wanted to come home and be closer to my family in my home state," Traudt said. "What sticks out with Creighton the most to me is just their style of play and culture, their continued success over the past decade especially."
Traudt's departure adds to the unexpected mass exodus from Virginia after a 25-8 season that saw the Cavaliers win a share of the ACC regular-season title, the program's sixth ACC regular-season title in the last decade.
Traudt, Kadin Shedrick and Francisco Caffaro all entered the transfer portal after the season, and guard Reece Beekman, the 2023 ACC Defensive Player of the Year, has entered his name into the NBA draft, though he intends at this point to retain his college eligibility.
It is also possible that the program will lose leading scorer Armaan Franklin, who is set to graduate in May, but has a year of eligibility remaining.
Coach Tony Bennett already knew he was losing starters Kihei Clark, Jayden Gardner and Ben Vander Plas, all fifth-year players, after the season.
For now, Bennett has two players from his 2022-2023 rotation to build around – Isaac McKneely, a 6'4" guard who averaged 6.7 points in 21.5 minutes per game as a freshman in 2022-2023, and Ryan Dunn, a 6'8" power forward who averaged 12.9 minutes off the bench as a freshman this past season.
Dante Harris, a 6'0" guard who transferred from Georgetown, joined the program in December and redshirted this season, and is expected to take a starting spot in the backcourt.
The roster for 2023-2024 also includes Class of 2022 four-star guard Leon Bond III, who redshirted this past season, and two incoming four-star freshmen, 6'3" combo guard Elijah Gertrude and Blake Buchanan, a 6'9" power forward from Idaho who chose UVA over Gonzaga.