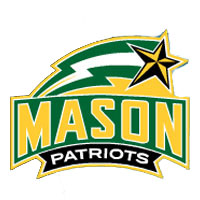 George Mason University President Ángel Cabrera announced today that Brad Edwards will become the university's next athletic director. The former Washington Redskin will become the fifth athletic director in George Mason's history.
"Mason has a history of success in Division I athletics, and this appointment shows we are committed to building on that tradition," Cabrera said. "Brad Edwards is the kind of leader that exemplifies our innovative spirit, and we are proud to welcome him to Mason Nation."
Edwards, who has served as athletic director at Jacksonville University since 2012, replaces Tom O'Connor, who announced his retirement in March after 20 years with the Patriots and 40 years in NCAA Division I athletics.
He will be introduced during a news conference on June 9 and will officially start work July 1, 2014.
Edwards comes to Mason at a time when the university recently joined the Atlantic 10 Conference, one of the most competitive in the nation in basketball. The Patriots won four team A-10 championships—women's indoor and outdoor track, men's soccer and baseball—in their inaugural season, leading all conference teams with the most championships.
"I am incredibly thankful to Dr. Cabrera and the Mason community for this opportunity, an opportunity I've spent years working toward," Edwards says. "I also want to thank Tom O'Connor for the outstanding job he has done in building the Patriot brand, and it is my mission to aggressively build on that foundation while also blazing a new path forward with great energy, enthusiasm and a highly competitive spirit."
Edwards has worked for three college athletic departments. In 2012, he was named athletic director at Jacksonville University, and in 2009, he joined Newberry College as director of athletics and later served as senior vice president for Intercollegiate Athletics and Institutional Advancement. He began his work in intercollegiate athletics in 1999 after a successful nine-year career in the NFL, joining the University of south carolina Athletics Department in the role of assistant athletic director for development.
The North Carolina native has a well-documented past in fundraising. At Jacksonville he raised a department record of approximately $3 million in new capital gifts for athletic facilities, spearheading the development of a 5,500-seat expansion with a new press box to the football and lacrosse stadium, a new softball office and locker room complex with covered batting cage and a new lacrosse team meeting room.
At his alma mater, the University of South Carolina, he ultimately rose to the role of senior associate athletics director and chief financial officer where he oversaw all financial operations during a time of unprecedented growth, with the annual revenue budget increasing from $28 million to total revenue from all sources of more than $52 million. During his tenure, Edwards played a primary role in the development of more than $170 million in revenue, construction projects and project financing, and subsequently received a letter of commendation from the south carolina State Treasurer's Office for his handling of the department's financial and business affairs.
In his three-year tenure at Newberry College as director of athletics, Edwards took on the added responsibility of overseeing the restructuring of the Department of Institutional Advancement, consisting of all the college's external affairs in the areas of fundraising, alumni affairs, and communications and marketing. During this time, total giving to the college increased 92 percent over the same period from the previous year.
Edwards has led his departments to athletic and academic success as well. In his two years in Jacksonville, the Dolphins won 13 regular season or conference tournament championships and had five student-athletes achieve All-American recognition, along with five conference Coach of the Year designations. Academically, the Atlantic Sun Conference Female Student-Athlete of the Year award was presented to a student at Jacksonville University. The university also received eight NCAA Public Recognition Awards, and had the highest cumulative program GPA on record with nine teams achieving higher than a 3.2 GPA.
During Edwards' tenure at Newberry, the athletics program moved up 37 places nationally in the Learfield Directors' Cup standings, while fielding 21 All-Americans, five academic All-Americans, an individual NCAA National Champion and three individual NCAA National runners-up.
While at South Carolina, he also played a critical part in new facility design, development and construction; most notably assistance with day-to-day oversight of design and construction of the 18,000-seat Colonial Life Arena, and primary oversight of the 34,000-square-foot Charles Crews Football Facility. Also, he was responsible for all venue concessions and food service, department advertising and multimedia rights, coordination of bowl travel, executive suites, assisting in securing major financial gifts and many other operational aspects of the University of south carolina athletic department.
Edwards earned a bachelor's degree in business management from the University of south carolina. He is a graduate of the Harvard Business School's Strategic Marketing Management Program, as well as the Executive Management and Leadership Program at the Massachusetts Institute of Technology. Additionally, Edwards earned an MBA from the University of Phoenix and is a graduate of the Sports Management Institute, an academic alliance between the business schools and athletic departments of the Universities of Southern California, Notre Dame, North Carolina-Chapel Hill, Texas-Austin, Michigan and Georgia. He is currently pursuing a master of arts in education from Michigan State University.
Edwards was a standout athlete for the University of south carolina Gamecock football team, earning second-team all-American honors after the 1987 season. He went on to play free safety in the NFL for nine seasons after being drafted in the second round of the 1988 draft by the Minnesota Vikings.
He also played with the Washington Redskins and Atlanta Falcons and was a defensive co-captain and runner-up MVP with the Redskins Super Bowl XXVI championship team. He was a USA Today All-Pro, a UPI All-NFC selection, and is a member of south carolina (statewide) athletic Hall of Fame.
Edwards grew up in Fayetteville, N.C., and is married to the former Marlana Brown. He has three sons—Jackson, Thomas and Colton.