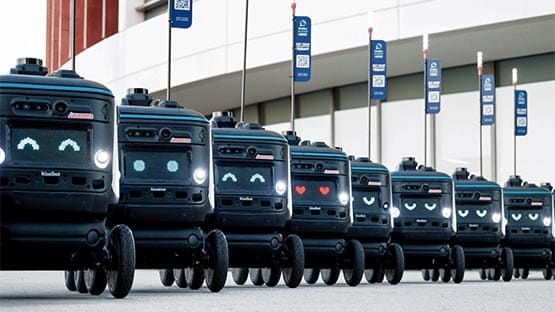 When students get hungry at Shenandoah University, they no longer have to go to the dining hall. For busy students, robots will pick up and deliver food to a selected drop-off location on campus.
Kiwibot, a robotic sidewalk delivery company, is offering the convenient food delivery service for students.
At the outset, 15 robots are operational at Shenandoah University with zero carbon emissions, reducing the carbon footprint on the Winchester campus.
James Madison University in Harrisonburg has had robots on campus since 2020.
Kiwibot has a partnership with Sodexo, a food services and facilities management company and Shenandoah's dining partner.
Students may place orders through a mobile application, Everyday. Users may track the order and follow the robot's location in real-time. This semester, the service is offered with no delivery fee.
"Students truly enjoy having the Kiwibots on campus. It is a convenient way to obtain food and beverages when students are busy with classes, performances, and practices," said Shenandoah University Vice President for Student Affairs Yolanda Barbier Gibson, D.A. "We are glad that we have the ability to provide this service to our students."
The Kiwibot will operate in extreme weather conditions including snow. They move at a walking pace similar to people to ensure safety around campus.
"The Kiwibots are so adorable when they're rolling through campus in tandem, getting ready for the new day of service," said Pam Burke, director of auxiliary services at Shenandoah University.
For more information on Shenandoah University, visit su.edu.