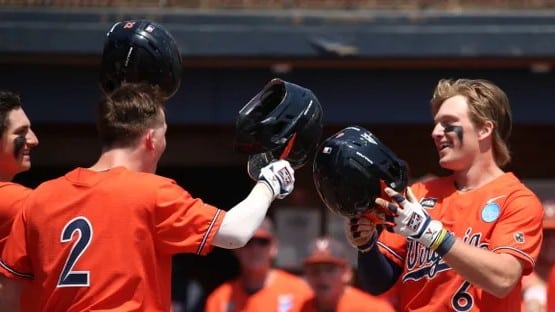 O'Ferrall, Anderson deliver
Griff O'Ferrall went yard for the first time in 2023 on the second pitch of the game, which "set the tone right off the bat," said UVA lefty Connelly Early.
"You know, when the first batter of the game takes the ball deep, the crowd's gonna get into it," said Early, who gave Virginia seven innings in the 14-4 win over Duke in Saturday's Charlottesville Super Regional Game 2.
The O'Ferrall blast helped the 'Hoos get out to what would eventually be a 4-0 lead by the fourth inning, but Duke would claw its way back into the game with a three-spot in the bottom of the fourth, on a two-run double from Luke Storm and an RBI double from Damon Lux.
A Ruthian blast off the bat of Virginia first baseman Ethan Anderson keyed a four-run UVA fifth that reversed the momentum for the Cavaliers.
UVA coach Brian O'Connor told reporters afterward that Anderson's rocket shot was "the biggest swing of the game.",
"There were a lot of hits today on both sides but Ethan's three-run home run was the ballgame," O'Connor said. "In the bottom of the fourth, they got three off Connolly, and we responded back and got a couple of guys on base. You give them the chance to do that. And, you know, Ethan Anderson, a he's a warrior. He's very talented, but his mental approach and his competitiveness is as good as you will see."
'Hoo else went deep
Anthony Stephan added a solo shot in the fifth, and Jake Gelof went yard in the eighth for his school-record 23rd homer of the season.
Gelof, a day after he justmissed hitting what would have been a walk-off three-run homer, flying out to the wall with two outs in the bottom of the ninth in the 5-4 UVA loss, was 3-for-5 with the homer and four RBIs.
The RBIs were his first of the 2023 postseason.
"Jake didn't have a postseason RBI until today? Oh, wow. I didn't know that," O'Connor said, after learning of that factoid from a reporter. "You know, that shows that, you know, he didn't press, he continued to stay with his good approach, and that was huge for us today, for him to have the kind of day that he did. And again, it speaks to the depth of our lineup that we have that we can win games without the guy, that's the homerun king, delivering for us."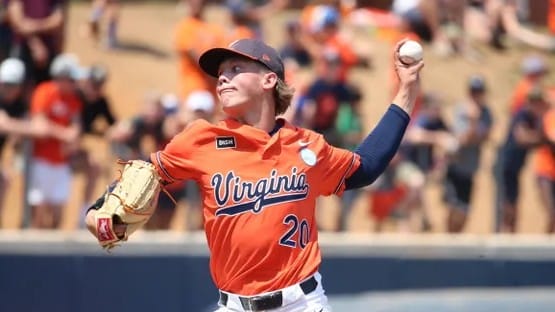 Early battles, pitches late, sets things up well for Sunday
Early, in picking up his 12th win, had to battle back from that rough fourth inning, and in doing so, he set up the pitching staff well for the deciding Game 3 on Sunday.
Because Early was able to give O'Connor seven innings in the blowout win, Oak only had to use one other pitcher, Jack O'Connor, meaning basically the entirety of the relief corps should be available when needed on Sunday.
"The plan was to use either Jack O'Connor or Brian Edgington at the end of the game, and to try to save our bullpen, give them a day so everybody can rejuvenate a little bit and be ready to go tomorrow," said O'Connor, before announcing that Edgington, his ace most of the season, will start Sunday, "and you know, we'll have all hands on deck, including Jack O'Connor, if we if we need it."
Edgington has an 8-3 record and 3.64 ERA in 16 appearances, including 14 starts, for UVA this season.
One of his three losses came in the regular-season series opener with Duke in April, in which he was touched up for six runs on eight hits in six innings of work, striking out nine and walking one in what turned into a 17-5 UVA loss.
Duke does the staff day thing
Duke is going to start Ryan Higgins (3-0, 3.70 ERA) on Sunday, but like the Blue Devils' other starting pitchers, you shouldn't expect him to stay out there long.
Higgins has made 17 appearances and nine starts this season, but has logged a total of 41.1 innings, his season-high being five, against Boston College back on April 16.
Higgins has thrown a total of seven innings since May 1.
Duke coach Chris Pollard likes to go staff day pretty much every day. He has two guys over 50 innings pitched this season, and one of them is reliever Charlie Beilenson, who has logged 57.1 innings in 38 relief appearances in 2023.
Alex Gow (3-4, 4.95 ERA) leads the staff with 63.2 innings pitched, in 17 appearances, all starts.
For context, Virginia's four primary starters – Early, Edgington, O'Connor and Nick Parker – have each gone at least 65 innings this season.
Neither approach is necessarily better, obviously, given where the season is now, with both heading into tomorrow one win away from the College World Series.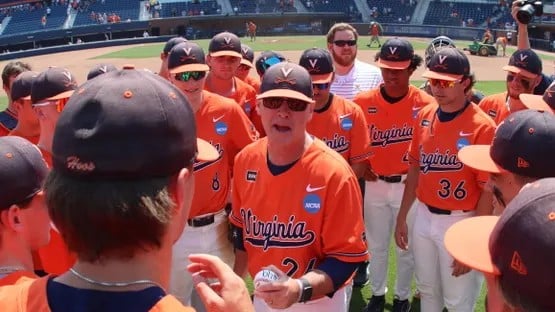 One game for Omaha
O'Connor has taken five of his teams to Omaha for the College World Series, winning it all in 2015.
"We all know what's at stake, they know what's at stake, and that's what makes it great," Oak said, with an eye to tomorrow. "You know, that's why these young men go to Duke, that's why they go to Virginia, is to have an opportunity to play in a game tomorrow of the magnitude that it is."
For the Virginia side, the game is on their home field, in front of their fans.
"When you wear this uniform, and you step in that batter's box or on the mound or in the field, and you see all around you orange, and you see the support, there are a couple of moments in today's game where the crowd got up, and you can just feel the energy, and you know that that's an earned opportunity," O'Connor said. "You know that's because of the body of work that you do all year, that you have the opportunity to play in your ballpark, and be the home team tomorrow, because we've earned that throughout the year. And I think it makes a huge, huge difference."
The most recent Virginia team that made it to Omaha, in 2021, was just lucky to be there.
This one has a legitimate shot to win another national title.
That's why talented players sign on to play for O'Connor.
"I think maybe in the 20 years that I've been the coach here, I think there's maybe only two recruiting classes that haven't been to Omaha," O'Connor said, "and I'm proud as hell of that, right, because we talked to them about that in the recruiting process, that not only can you come here and get one of the great degrees in this country and play in a great league and develop your skill set to play at the highest level beyond college, but they all want to play in Omaha, you know, and each team has that opportunity tomorrow."