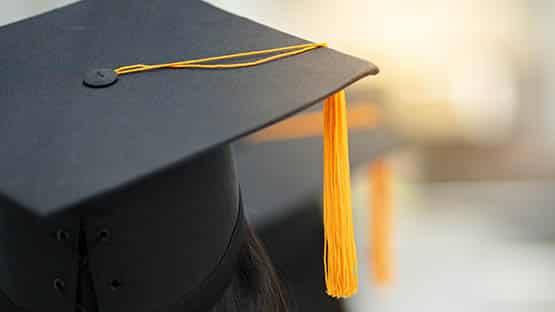 Seventeen graduates from James Madison University and the Shenandoah Valley have earned college degrees – and are the first in their families to achieve the honor.
JMU President Jonathan R. Alger came to JMU with a vision. He wanted to create a program that would inspire rising high school students from the local area to envision themselves at college, specifically JMU, and provide a pathway to fulfilling their desire to continue learning.
These 17 graduates represent the first cohort of Valley Scholars to fulfill that mission.
In 2014, the first cohort of local middle school students was offered participation in the program. If they took the most advanced academics available, plus monthly JMU programming, then their tuition would be paid at JMU.
"I am incredibly proud of the first cohort of our Valley Scholars to be graduating from JMU this weekend," said President Jonathan Alger. "This marks a milestone in the history of our institution, where we've created local community engagement, access and affordability and student success. These graduates have the drive and determination to continue opening doors and paving their own way."
The current graduating cohort is an accomplished group.
Several students have completed the JMU Honors program, participated in a study abroad experiential learning trip, or presented at conferences, and some are even serving as mentors for the middle schoolers just starting the Valley Scholars program.
The Valley Scholars program caters to first-generation, financially eligible students from seven local public school districts including Augusta, Page, Rockingham and Shenandoah counties as well as the cities of Harrisonburg, Staunton and Waynesboro.
To gain admission into the program, students undergo an application process and begin their participation in 8th grade. The program's central objective is to nurture a thirst for knowledge and cultivate essential skills, enabling students to attain the academic excellence required for college enrollment.
Today, 84 Valley Scholars attend JMU with 207 more in the pipeline.
Their scholarships, if they choose to attend JMU, are provided by the university and by more than 1,430 private donors, who have invested more than $5 million in these local students.
"It is our long-term hope that many of these students will eventually go back within their home communities to serve as mentors and continue the legacy of this program," said Alger. "While JMU may have been an avenue for these students to put in the hard work to achieve their dreams, these students have already made inspiring and indelible contributions to the university through their presence, perseverance and commitment."
For more information on the Valley Scholars program, visit jmu.edu