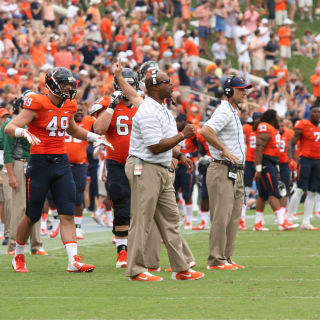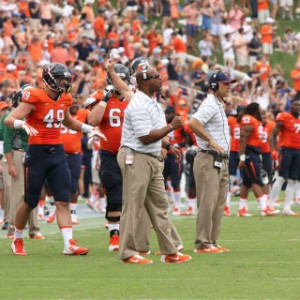 UVA football is 4-3 after a 20-13 loss at Duke on Saturday. Which is somehow a firing offense on the message boards.
So there's that, and then there's the reporter going around asking players after the game about the three-game losing streak to Duke, prefacing the question to one with a reference to how the Blue Devils are basically a weak program.
Seems that some folks think this is still the 1990s, that Duke is god-awful, that losing to the Dookies is an abomination, somehow beneath the expectations at the, sniff, University of Virginia.
Reality check: Duke is better. Right now, anyway. david cutcliffe is one of the brighter minds in football, college or the NFL. The fact that Peyton Manning, the greatest football player of his generation, makes an annual pilgrimage to Durham to seek Cutcliffe's tutelage ought to make that clear.
The facilities that he has to work with are put to shame by most Texas high schools, the fan base is virtually nonexistent, and honestly, yeah, he doesn't have the talent at his disposal that UVA coach Mike London has, not to mention just about everybody in the ACC outside of Wake Forest has, but Cut can win with his'n, as Bum Phillips used to say of Chuck Noll, and he can win with your'n.
Which gets us back to London. His team loses 20-13, but otherwise outplays Duke, the defending ACC Coastal champion, incidentally, in their stadium, empty or not. Outgains the Blue Devils by more than 100 yards. The game comes down to one drive in the fourth quarter, and Duke made the plays.
Duke won this game; Virginia didn't lose it. Sometimes that happens in sports. As the saying goes, both schools give out scholarships.
Not only is there no shame in losing to Duke, in any circumstance, neither is there no shame losing the game played on Saturday. It was a helluva game. One turnover combined on the day for the two teams, and it came on the first drive, by Virginia. The stats will show you that Duke scored a touchdown off that turnover, but it was hardly a drive spawned by a turnover and a short field; the Blue Devils had to drive 62 yards to get the score.
So one turnover, a combined nine penalties for 90 yards. Bursts of offense, then bouts of dominant defense.
One team has to win, and thus one has to lose. Duke, now 16-5 in its last 21, is ahead of the curve relative to Virginia in knowing how to win games. Give 'em credit for that, and chalk up that the 'Hoos have some learning to do in closing out games.
Three losses this year, and in all three the case can be made that Virginia played on par with, or above, the victors, and we're talking UCLA, BYU before it lost Taysom Hill, and Duke.
Yes, it's hard to swallow another moral victory that goes down in the ledger as a defeat, but maybe only if you somehow ignore the long view. This is a program with five losing seasons in its last six, that went 6-18 combined in 2012 and 2013, that was barely competitive in 2013 in finishing 2-10 and losing its last nine. From there, you have a team that is 4-3, still tied for first in the ACC Coastal in mid-October, with wins over Louisville and Pitt. The defense is borderline top 10 nationally, the offense is averaging more than 400 yards total offense, with a pair of sophomores at quarterback getting a little better each week.
Fire Mike London, sure. Nuke the program, and start over. Get a new coach in to no doubt clean house to get his guys in, which will take at least four years to get Virginia football back on the road to respectability. Roll the dice that the same people who brought you Al Groh and then Mike London will somehow do better with a third guy who will be asked now not to build on what george welsh was able to do at UVA, but take whatever faint echo there may still be from the 1980s and 1990s and make it something that kids who were toddlers when Welsh was in his decline want to bring back to life.
The 2014 Cavs have shown that London is close to getting the job done. The talent is there; the coaching, both from a teaching perspective and a play-calling perspective, is there.
Is a national championship in the offing? Obviously not this year, not soon. A Coastal Division title is still possible this year, and assuming this team finishes out strong, wins between six and eight, gets into a bowl, Virginia enters 2015 with some momentum, some talent, more experience, more lessons learned, the hard way, and more motivation to build something.
A narrow loss on the road to a defending division champ that won 10 games a year ago, is 6-1 now and is, frankly, where UVA fans want their team to be isn't any reason to upset the apple cart. Not unless you're the type that's into cutting off one's own nose to spite your face, though of course there are plenty in any fan base, and more than the national average among the UVA faithful, who would be perfectly willing to do just that.
– Column by Chris Graham