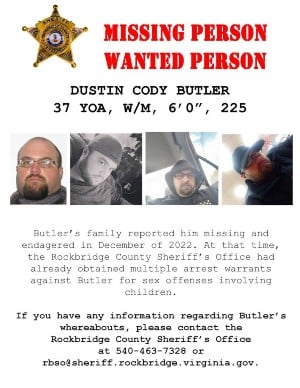 The family of a Vesuvius man last seen on Glasgow Mountain on Dec. 5 is frustrated with the Rockbridge County Sheriff's Office, which one family member thinks is "dragging on his case, almost like it didn't happen."
"They don't suspect foul play, but truth of the matter is, they really don't know anything," a family member wrote in an email to Augusta Free Press last week regarding the disappearance of Dustin Cody Butler, 37.
Butler reportedly got into an argument with someone at the Glasgow Mountain residence at which he was last seen on Dec. 5 and left on foot, and has not been seen or heard from since.
The latest from the Rockbridge County Sheriff's Office on the Butler missing person case comes from an update to the RCSO's Facebook page on March 17 that updated the status of Butler from "missing person" to "missing person/wanted person."
According to the update, the sheriff's office reported that at the time of Butler's disappearance, the RCSO had obtained multiple arrest warrants against Butler regarding allegations of sex offenses involving children.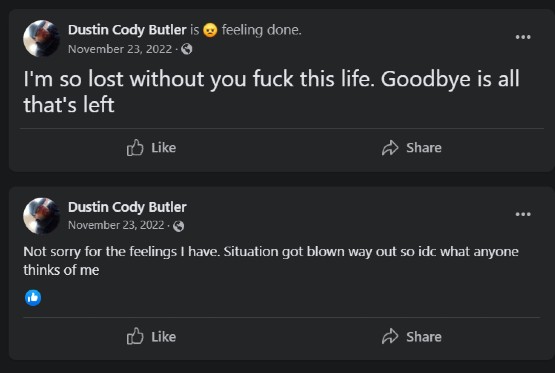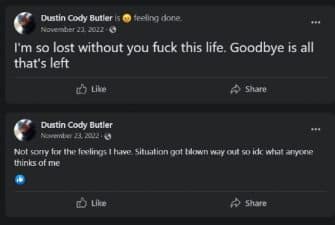 Butler's most recent Facebook post, dated Nov. 23, 2022, noted as his status "feeling done," and the message was "I'm so without you f–k this life. Goodbye is all that's left."
Another post from Nov. 23, 2022, had Butler sharing this message: "Not sorry for the feelings I have. Situation got blown way out so idc what anyone thinks of me."
The missing person notice from the sheriff's office in December offered that Butler battles depression and bipolar disorder.
The family doesn't agree with the sheriff's office that there was no foul play involved in Butler's disappearance.
"The people last seen with him have told so many different stories and are walking around untouched. They keep making excuses for not putting this story on the news. It's been going on four months. The family is crushed. It's like nobody wants to help, and I mean truly help. There has to be something that can be done," the family member who reached out to us last week wrote in the email to us.
If anyone has any information regarding his whereabouts or his disappearance, contact the Rockbridge County Sheriff's Office at (540)-463-7329.