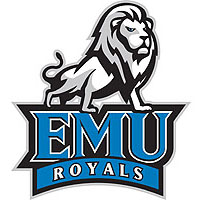 Experience is a key factor in sports, and EMU's field hockey team has plenty of it. With their largest senior class in four years joined by seven new faces, the Royals look ready to move back up the ODAC standings.
Eastern Mennonite returned to the ODAC Tournament last year with a 4-4 record in conference play, but suffered an overtime loss at Bridgewater in the quarterfinals. Coach Brenda Bechler, now entering her 12th season at her alma mater, said she is expecting more consistency this year than last.
"The 2013 season was challenging," Bechler explained. "We played well against some very strong teams and we didn't play as well against other teams. This year we continue to have a challenging schedule with a number of top 20 teams early on. We will be looking to be more consistent in our play and play our best game each and every time we step on the field, regardless of who the opponent may be that day."
Among EMU's five seniors are three All-ODAC performers, giving the women a strong core with plenty of experience and talent. Defenders Mandy Stowers (Powhatan, Va./Powhatan) and Bethany Hench (Carlisle, Pa./Carlisle) were named All-ODAC First Team and All-ODAC Second Team, respectively. Stowers tied an EMU record with 10 defensive saves last fall. Attacker Jenessa Derstine (Harleysville, Pa./Christopher Dock) led the team with seven goals, four assists and 18 points and earned her third consecutive spot on the Third Team.
"Mandy and Hench will provide leadership for the defense and Jenessa will help spur the attack," said Bechler. "Together, all five seniors will help spark the fire and passion of each player and lead this team to a successful season."
The other seniors are midfielder Camille Williams (Media, Pa./Delaware County Christian), who notched three goals and two assists last year, and Sara Puckett(Richmond, Va./Matoaca), who adds depth to the back line. Also back are junior midfielders Melissa Cox (Mountville, Pa./Hempfield) with her five goals, four assists and 14 points, and Brianna Kauffman (Harleysville, Pa./Christopher Dock), who had two assists.
A key loss from last year is graduated goalie Mary Beth Danaher. Sophomores Hannah Daley (Lothian, Md./Southern) and Ariel Bills (Paradise, Pa./Pequea Valley) should push each other for time between the pipes this fall.
"Losing a three-year starter in goal is always a disadvantage," Bechler admitted. "Hannah had the ability to practice in goal last fall and spring. Ariel joined us in the spring and had the opportunity to work with the team in the offseason. We look forward to seeing them put their talent to use in games."
EMU also brings back two other sophomores with experience, plus a classmate who missed last year with an injury sustained on the first day of practice.
"We are excited for our newcomers this year," said Bechler. "Paige Souder (Sellersville, Pa./Christopher Dock) missed the entire season due to an injury the first day and we look forward to having her join us after surgery and lots of hard work in rehab. Each of our newcomers will contribute to the success of this season from the start."
According to the Bechler, that balance of returners and new faces looks good.
"The strengths of our team will be the leadership and experience from our seniors," she said, "and we believe we have a strong unit of newcomers. We hope to hit the field running and giving our spectators and opponents an exciting game. Each player on the team will have a vital role and together as a whole, we are excited to see just how far we can go this season."
The Royals have three nationally ranked teams on their non-conference schedule, including national semifinalist Christopher Newport. Two of those three (CNU and Ursinus) will be home contests while the women play at Mary Washington. ODAC champion Lynchburg was also in the final national ranking last fall, and visits EMU on Sept. 30.
"We will be challenged by both in- and out-of-conference games this season," said Bechler. "The strong out-of-conference opponents are a good way to continually challenge ourselves and strive to take our game to the next level."
One advantage will be the home turf, as the Royals play five of their first seven games in Harrisonburg.
With a focus on passing and working together as a unit on both ends of the field, the field hockey women are ready for their opening weekend. They host Gettysburg and Ursinus on Aug. 29 and 30, respectively.
"Everyone is excited for the season," Bechler commented. "We are excited to realize the potential that lies within each athlete and how together as a unit we can put all those pieces of the puzzle together to achieve the success we have worked so hard for in the offseason."