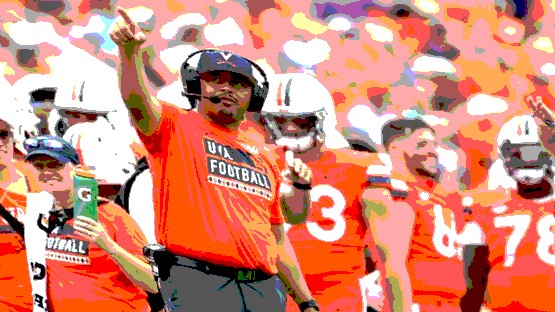 Tony Elliott really, really wants to get a traditional run game going, with his backs carrying the bulk of the load on the ground.
He may have stumbled onto something else that may work late in UVA's 24-21 loss to NC State last week.
True freshman QB Anthony Colandrea was able to gain some yards on a pair of designed runs in the fourth quarter – one going for 16 yards, the second going for 11.
Colandrea was also able to run for 34 yards on six scrambles.
It might be too Brennan Armstrong for Elliott's liking, but he'll take what he can get right now.
"We found something with the quarterback late in the game. So really challenged the backs. I thought the backs could have run through some arm tackles, ran through the smoke a little bit better in this pass game. So, I'm excited to see them respond this week," Elliott told reporters in his weekly press conference on Tuesday.
Through four games in 2023, Virginia is averaging an anemic 79.3 yards per game on the ground.
Accounting for sack yardage, which in the college game counts against the net rushing total – it should count against net passing – UVA is at 100.8 yards per game this year.
Going back to last year, Year 1 of the Elliott era, the offense gained 123.1 net yards per game on the ground, and 145.8 sack-adjusted yards per game.
The final year of the Bronco Mendenhall-Robert Anae era was 2021. That year, Anae's pass-focused offense gained 123.2 net rushing yards per game, and 142.5 sack-adjusted rushing yards per game.
Continuing to adjust for sacks, Colandrea is the team's leading rusher, with 130 sack-adjusted yards on the ground, and if that sounds familiar, it's because it is.
Armstrong led the team in sack-adjusted rushing yards last season (586 yards), as he did in his last two seasons in the Anae offense (476 yards in 2021; 677 yards in 2020).
Anae's Air Raid offense features the QB as a threat in the run game; Elliott's pro-style offense is designed to get the bulk of its rushing yards from the backs.
That part clearly isn't working, again. Elliott attributed the issues last week to NC State's approach up front.
"Structurally we knew going against NC State, they're very aggressive. Going to have seven, if you got six, they're going to have seven, if you have seven, they're going to have eight. They built to stop the run, and they basically tell you, you got to beat us throwing the football," Elliott said.
"Last week, I knew structurally we were going to have some challenges. Thought we ran it effectively early on. Hopefully we can really get it going," Elliott said. "I think that will really complement what we're trying to do in the passing game and open up more of the move the pockets and play-action type passing game."