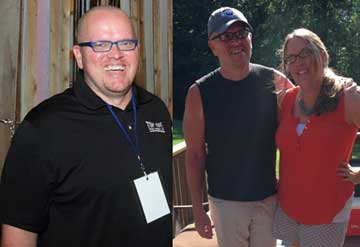 People ask me all the time, How did you do it? This time last year, I weighed in at 275 pounds. I'm down to 177 as I write this, just short of 100 pounds off that high, or depending on your perspective, that low, low point.
The answer to the question is both easy to offer and maybe also hard to grasp: I just wanted it.
The part that is hard to grasp is that we're conditioned to think that weight loss is something that is just short of impossible to achieve. An endless stream of TV commercials and junk emails offer a variety of quick fixes, from magic pills to meal plans to the latest piece of exercise gadgetry, none of which are inexpensive.
You maybe don't want to hear me say that I didn't buy into any of that to lose just short of 100 pounds. Or maybe you do actually want to hear that from me. Either way, it's the truth: I didn't use a magic pill, didn't go for a meal plan, didn't go on some dramatic DVD workout plan.
My plan was simple: eat less and move more.
At 275 pounds, I was clearly eating a lot more than I needed to. This became clear when I decided on a 2,000-calorie-a-day diet. The first couple of days, it occurred to me that I had been taking in 3,500 calories or more a day on a regular basis, and far more than that some days.
Eating less was easy to implement as a strategy. I just needed to be smarter with what I put in my body.
Moving more was a little more difficult. I already moved a lot; I've worked out regularly since high school, so it's not as if I was a couch potato. But I made some important tweaks to my regimen, adding cardio in the form of elliptical and treadmill workouts, eventually taking up running.
I remember feeling like I'd accomplished something going 15 minutes on the elliptical. Now an hour at a fast pace is the floor, and I'm training for a marathon after finishing in the top third of the runners at a recent 10-miler a couple of weeks after winning my age group at a 5K.
But it didn't start that way. For me, it started with looking in the mirror and not liking what I saw in the reflection, and knowing that I was only fooling myself with the excuses that I was older (in my 40s), busy (owning and running a small business) and otherwise healthy (from the regular workout routine).
Can you do what I've been able to do? Of course you can. We can all eat less and move more. Nothing I'm doing is special. There's no magic bullet, no special piece of equipment, no secret sauce.
The trick is there is no trick. You just have to want it.