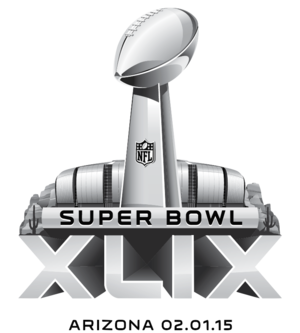 Fox Business had an awkward report today offering that the NFL is bracing for possible "record low" attendance at this year's Super Bowl.
Go with us here for a second on this, because yeah, this is a special level of stupid.
The NFL is supposedly worried about the continuation of a disturbing downward trend from the 100,000+ who attended the 2011 Super Bowl pitting the popular Green Bay Packers and Pittsburgh Steelers.
Attendance is expected to top out for Super Bowl XLIX at around 72,000, according to the report, which, naturally, since the capacity at this year's host venue, has the capacity to accommodate, you guessed it, 72,000 fans.
This came from reporter Elizabeth MacDonald. Host Maria Bartiromo suggested later in the segment that the drop may be attributable in part to the growing popularity of Super Bowl parties.
Seriously, this was the substance, such as it was, of the reporting, which was based on a column on Forbes.com that suggests the record low attendance on the horizon for this year's big game is a function of the relative lack of popularity of the teams still involved in the Super Bowl tournament: the New England Patriots, Indianapolis Colts, Seattle Seahawks and Green Bay Packers.
Ignoring for a moment that the Packers played in the good-for-business Super Bowl XLV four years ago, seriously? Ticket sales for the Super Bowl are based on who's playing? Since when?
TV ratings, sure, can be at least somewhat, OK, marginally, be impacted by who's playing. But, you know, Super Bowl! They play one of them a year, Super Bowl commercials, the Super Bowl halftime show, et cetera.
But what about the smoking gun, in the form of Super Bowl XLV and its 100,000+ attendance?
Um, it was played in AT&T Stadium in Dallas, which has a capacity of 100,000+.
There is an upper limit for how many tickets the NFL could sell to its annual orgy of cultural gluttony, but there isn't a stadium in North America big enough to provide the petri dish for us to test out what that upper limit might be.
In the meantime, we have Fox Business and Forbes.com to worry aloud about the sky falling in, which both are more than qualified at doing.
– Column by Chris Graham