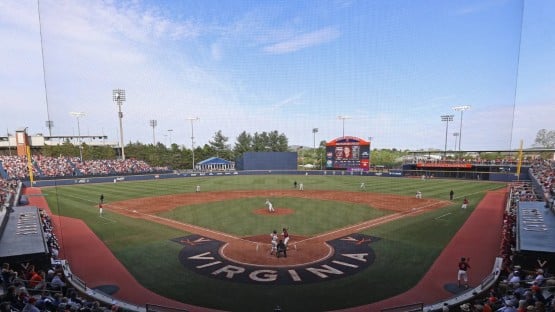 Duke rallied for two runs in the eighth off the Virginia bullpen, then held on as Jake Gelof lined out to the warning track with two on and two out in the ninth to notch a 5-4 win in Game 1 of the Charlottesville Super Regionals on Friday.
Game 2 is set for a first pitch just after noon on Saturday.
Duke (39-22) will be the home team, and has a chance to advance to its first-ever College World Series.
Virginia (48-13) will be looking to stave off elimination and set up a winner-take-all Game 3 on Sunday.
The 'Hoos seemed to have this one in control after a three-run sixth. Gelof led off with a hustle double to left-center, then scored on a long rifle-shot single to the right-field wall by ACC Player of the Year Kyle Teel to make the score Duke 3, Virginia 2.
An excuse-me-swing single to left by Ethan Anderson put two on with no outs, and then Duke misplayed a Casey Saucke sacrifice bunt attempt into an infield single to load the bases.
Anthony Stephan grounded out into the hole between second and first to score Teel, and Henry Godbout, with one down, flied out to right to score Anderson from third with a sac fly.
That one put Virginia up 4-3 heading into the seventh.
Nick Parker, who didn't seem to have his best stuff in the Game 1 start, still managed to work his way through six and two-thirds innings, giving up three runs on six hits, striking out four and walking two, leaving with the lead.
Evan Blanco got the last out of the seventh to preserve the UVA lead, and Brian O'Connor, after Virginia went down in order in the bottom of the seventh, turned the game over to the back of his bullpen in the eighth.
But closer Jay Woolfolk, who only threw one pitch in Virginia's three-game sweep in last weekend's Charlottesville Regional, was not sharp at all, giving up a leadoff single to Jay Beshears, on a fat 0-2 pitch, and then a one-out single to DH MJ Metz, before being lifted for lefty reliever Matt Berry.
Berry had his own problems, plunking the next hitter, Giovanni DiGiacomo, with a 1-2 slider, then giving up what would have been an RBI single to the next hitter, Tyler Albright, except that his sinking liner to center was played well by UVA centerfielder Ethan O'Donnell, who decoyed pinch-runner Josh Solomon into thinking that he would make the catch, then threw to third for a forceout as Beshears scored the tying run.
That left two outs in the inning, and gave Berry a chance to get out of the frame with a tie score.
But Luke Storm hit a line-drive single to left to score DiGiacomo from second, putting Duke back on top.
Virginia, in its half of the eighth, got a leadoff single from Teel, who was 2-for-4 on the day, and Teel stole second during the at bat of Anderson, but Anderson K'd, ahead of Saucke flying out and Stephan going down on a short popup to end that threat.
After Berry held Duke in check in the ninth, Virginia got something going with two down when Griff O'Ferrall reached on an infield single off Duke closer James Tallon, who walked Ethan O'Donnell to bring up Gelof.
Gelof worked a 2-1 count in his favor before hitting a screaming drive to left-center.
In the stadium, it looked like it had a chance, but the ball died on the warning track into Albright's glove for the third out.
Woolfolk (2-1, 3.00 ERA) took the loss for UVA, charged with two runs on two hits in his third of an inning in relief.