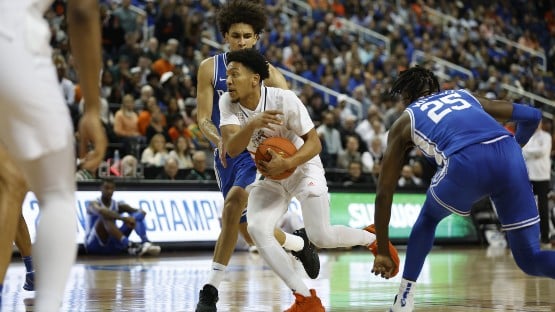 Miami had three chances to tie or take the lead in a two-minute stretch, but Duke got stops on defense, got some separation, and held on for an 85-78 win in the semifinals of the 2023 ACC Tournament on Friday.
Duke (25-8), the #4 seed, advances to the ACC Tournament championship game on Saturday to face the winner of the late game between #2 seed Virginia and #3 seed Clemson.
The win was the eighth straight for the Blue Devils, who haven't lost since their 69-62 OT setback at UVA on Feb. 11.
Miami (25-7), the tournament's top seed, has now lost two of its last four games on the heels of a seven-game winning streak.
Duke led 41-36 at the half, and never trailed in the second half, though Miami kept it close.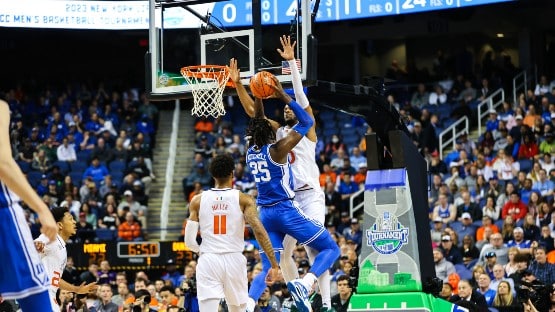 A Jordan Miller layup and foul could have tied the score with 6:59 left, but Miller missed the free throw.
Miami then came up empty on its next two possessions, before Isaiah Wong, the ACC Player of the Year, picked up two fouls in a three-second span, the second giving Dariq Whitehead three free throws, and sending Wong, who finished with 22 points, to the bench with his fourth foul.
Whitehead made all three from the line, and Wong went to the bench for a crucial two-minute span that saw Duke build the lead to six.
Miami twice got the margin down to four, the final time with 54 seconds left, on an and-one by Anthony Walker, but after Mark Mitchell went 1-of-2 at the line to up the lead to five, Nigel Pack missed a contested three, and Miller missed a stickback, which was rebounded by Mitchell.
Jeremy Roach hit two free throws with 31 ticks left to push the lead to seven, and it was over, for all intents and purposes, right there.
Kyle Filipowski led five Duke players in double figures with 17 points on 8-of-9 shooting.