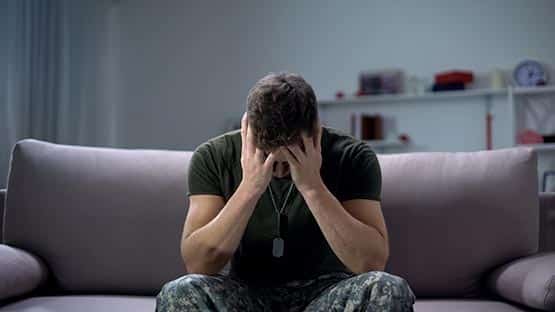 The U.S. Department of Defense is updating their approach to suicide prevention after reviewing the Suicide Prevention and Response Independent Review Committee's report released this week.
In response to the report, the Secretary of the Defense Lloyd James Austin III said that the Department's most valuable resource is its people, and they will spare no effort in working to prevent suicide and save lives.
The Department has identified key priority areas for service members in the 115-page report including:
Fostering quality life
Building healthy climates and cultures
Addressing stigma as a barrier to help-seeking
Promoting a culture of lethal means safety
The SPRIRC report focuses on four main areas:
Restructuring suicide prevention training
Providing additional resources to help service members access existing support services
Promoting lethal means safety
Emphasizing leader stewardship in addressing service members needs
Recommendations by the committee were ranked from 1-3 for priority.
Among the items marked high priority are:
Create a task force to modernize and reform the military promotion system to better reward and select the right people for the right positions at the right time based on demonstrated leadership skills and abilities.
Eliminate legal and bureaucratic barriers to efficient hiring and onboarding processes.
Centralize responsibility for core suicide prevention activities that are common to all services.
Modernize the content, delivery, and dosage of suicide prevention education and skill building across the career cycle of military personnel.
Separate training should be developed for different audiences and for intended effect.
Training should be delivered in small groups of service members with similar rank and/or positions instead of mass "one-size-fits-all" training.
If DoD program evaluation and research find that some investigations and offenses are associated with especially increased risk of suicide, the DoD should develop policies requiring a specially trained behavioral health professional to be present at the initial notification of the subject.
Repeal Public Law 112-239 Section 1057 and replace with procedural due process regarding the collection and recording of information relating to the lawful acquisition, possession, ownership, carrying, or other use of a privately owned firearm or weapon by military personnel and civilian employees of the DoD.
Establish standards for DoD-approved firearm safety training requirements.
Implement a seven-day waiting period for any firearm purchased on DoD property.
Implement a four-day waiting period for ammunition purchases on DoD property to follow purchases and receipt of firearms purchased on DoD property.
On DoD property, raise the minimum age for purchasing firearms and ammunition to 25 years.
Require anyone living on DoD property in military housing to register all privately owned firearms with the installation's arming authority and to securely store all privately owned firearms in a locked safe or with another locking device.
Establish DoD policy restricting the possession and storage of privately owned firearms in military barracks and dormitories.
Ensure duty schedules allow for 8 hours of sleep and minimize the frequency of shift changes.
Address excessive alcohol use and the risks it poses in existing training requirements including suicide prevention training, sexual harassment and assault prevention training, and other safety-focused trainings.
The Office of the Inspector General should conduct a comprehensive review of the magnitude of unpaid and delayed payments to service members and their families and provide recommendations for improving efficiencies.
Pay systems must be fixed so that service members do not experience delays in pay.
Eliminate budget and statutory limitations that hinder the Services' ability to increase incentive pay and retention bonuses for DoD behavioral health clinicians.
Expedite the hiring process for behavioral health professionals.
Provide skills-based training in evidence-based suicide prevention treatments to behavioral health clinicians across the Military Health System.
Provide advanced training in evidence-based suicide prevention treatments to TRICARE behavioral health clinicians.
Ensure TRICARE payments to behavioral health professionals are made as directed by TRICARE policy.
The foreword of the report reads: "We heard your voices loud and clear. During our visits, we invited you to identify what is and is not working, and what needs to change when it comes to suicide prevention and response in the Armed Forces … You overwhelmingly supported the DoD's efforts to prevent suicide as the right thing to do."
The foreword is signed by the review committee members: Dr. Gayle Y. Iwamasa, Dr. Rebecca K. Blais, Dr. Craig J. Bryan, Dr. Jerry Reed, Dr. Stephanie Gamble, Dr. Rajeev Ramchand, LTG Nadja West (ret.), CDR Carl Trost (ret.), Kathy Robertson and CMSAF Kaleth Wright (ret).
The review committee was established on May 17, 2022.
The full report is online.