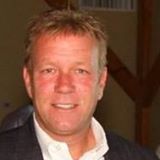 Dennis Burnett cannot be gone. He would be a bright light on a star in the sky; he could serve as a source of energy power for a small town. People like that don't die; they don't even fade away.
Burnett passed away from an apparent aneurysm Tuesday. Most recently the executive director of the Shenandoah Valley Partnership, he also served as the economic development director for Augusta County and as the deputy director of the Shenandoah Valley Regional Airport.
Tireless and effusive, Burnett was an asset for business and industry in the Shenandoah Valley. He was the perfect person for the jobs that he held over the years because he saw the big picture and how everything fit together, and also because of his outsized personality. If Dennis Burnett was in the room, you gravitated toward him, as befitting a bright light, a star, a source of energy, to be in his orbit.
I've had the fortune to get to know a lot of the players in the public eye in Valley circles in recent years. The one person that I never heard anybody say a bad thing about, and not say a bad thing about anybody else, was Dennis Burnett. He had friends and admirers everywhere.
From what he did professionally, the Shenandoah Valley is a lesser place today with the passing of Dennis Burnett. For those who knew him, we've all lost a little bit of ourselves with him no longer here.
– Column by Chris Graham