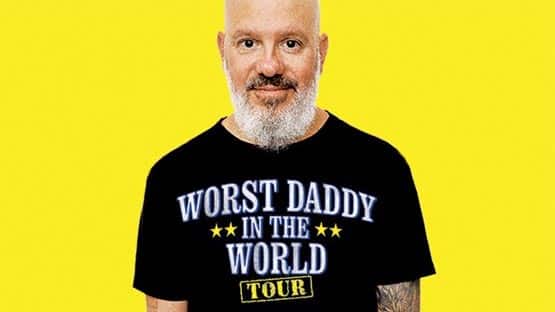 Emmy Award winner and two-time Grammy Award nominee David Cross brings his "Worst Daddy in The World Tour" to The Paramount Theater in Charlottesville on Thursday, June 8 at 8 p.m.
Cross premiered his comedy special, David Cross: I'm From The Future, as a livestream event last year available internationally on his website. Cross' 2019 comedy special, David Cross: Oh Come On, is available on Amazon Prime and Peacock.
Cross was nominated for two Grammy Awards for the albums, America…Great, and Shut Up You F***ing Baby, and his comedy special, David Cross: The Pride is Back, was named one of the 25 best stand-up comedy specials and concert films of all time by Rolling Stone in 2015.
In 2021, Cross starred in the National Geographic series, Genius: Aretha, portraying famed music producer, Jerry Wexler; he made guest appearances in the HBO Max miniseries, Station Eleven; and starred in the HBO Max film, 8-Bit Christmas. Other TV credits include Arrested Development, Goliath, The Increasingly Poor Decisions of Todd Margaret, Mr. Show with Bob and David, Freak Show and The Ben Stiller Show.
Tickets range from $37.50 to $147.50.
Tickets are on sale now at www.theparamount.net