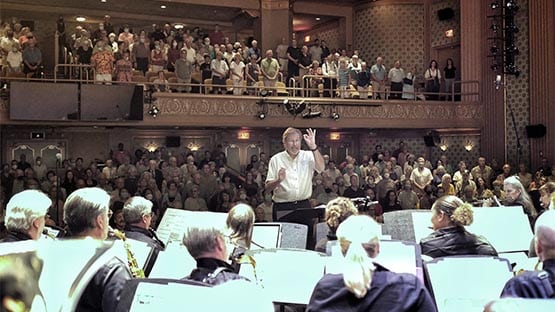 Cville Band has announced its summer season at The Paramount Theater with performances on June 6, July 5 and Aug. 15 at 7:30 p.m.
The June 6 concert theme is Around the World in 60 Minutes. This concert will feature concerto competition winner, Lizzie Mayhood, playing the Chaminade Concertino for Flute, and principal horn, Becky Allen, performing Mozart's Horn Concerto No. 3 in E-Flat.
The July 5 concert theme is Patriots and Princesses. Come celebrate Independence Day one day late, and enjoy band favorites in Paramount comfort! The concert will feature James Prodan performing "Gabriel's Oboe," Martha McKechnie singing "How Far I'll Go" and "Let It Go" from the Disney favorites, "Moana" and "Frozen," and Robert Mott performing "Hymn to the Earth" on bass trombone.
The Charlottesville Band closes out its 101st summer season on Aug. 15 with American Songs featuring Greg Harris performing Caprice Valsant on xylophone and a piece arranged by Richard Domek for the band titled Trombone Job.
The Paramount Theater, on the Downtown Mall in Charlottesville, has been the band's summer home since 2008.
Admission is free. No registration is required.
For more information, visit cvilleband.org