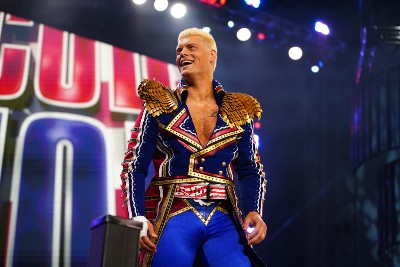 We're supposed to believe that Vince McMahon is going to put his WWE title on a guy that the competitor that he doesn't want to acknowledge didn't think could ever be its top guy.
And yet here we are, a few days before the coronation of former AEW star Cody Rhodes, a guy McMahon ran off in 2016, on McMahon's biggest stage, WrestleMania.
McMahon signed Rhodes away from AEW last year, and set about laying out a year-long storyline to bring Rhodes together with WWE champion Roman Reigns, who has had a stranglehold on the company's top spot for the past several years.
With Reigns apparently on his way to Hollywood, following in the footsteps of Dwayne "The Rock" Johnson and John Cena, it's time for there to be a next guy.
Rhodes, 37, has the pedigree – as the son of the legendary "American Dream" Dusty Rhodes – and he's taken baby steps toward developing the TV chops.
When Rhodes was in AEW, which he helped billionaire scion Tony Khan launch in 2019, he made it a point to try to build his brand outside the wrestling business, taking a role on an ensemble reality/competition show, "The Go-Big Show," that helped get him some exposure with a more mainstream audience.
In the ring, though, Rhodes was never a serious part of the AEW world title picture, not even wrestling for the title after a November 2019 loss in which the stipulation was that he would never again challenge for the AEW belt if he came up short.
Wrestling stipulations being what they are, Rhodes and Khan could have worked around that, but Khan booked Rhodes to hold the company's secondary title, which he held off and on until his surprise departure from AEW last January.
Rhodes was immediately booked in WWE to be a world title contender, before suffering a torn pectoral muscle that put him on the shelf for several months.
The torn pec didn't delay the impending storyline involving Rhodes and Reigns, which was mapped out to end at WrestleMania, and almost certainly finishes out that show on Sunday with Rhodes winning the belt.
The question heading into 'Mania isn't if Rhodes wins, as much as, how does WWE book him beginning with the next night's "Raw" as champ?
WWE has run this play – a long build for an underdog babyface to win the title at 'Mania – before, but what the company hasn't been able to get right, for a while now, is how to book a babyface champ.
Looking around the WWE roster, it's not readily apparent who stands out as the possible next contenders for Rhodes as a babyface WWE champ.
Maybe a quick turn to heel is in order for Rhodes, who resisted turning heel in AEW when it was apparent that a heel turn with that audience would have drawn money.
That would be quite the twist in the Rhodes-to-the-top story: Cody Rhodes, who wasn't viewed as a top guy in the company he helped launch, and wouldn't turn heel when it made the most sense for business to do so, as a heel WWE champ.