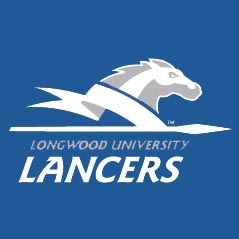 It wasn't a double team, a triple team or even foul trouble that finally stopped Longwood center Lotanna Nwogbo. It was his own hand.
Longwood's 6-8, 255-pound redshirt junior entered Saturday's matchup at Big South foe Charleston Southern on a stretch of three consecutive double-doubles but was forced to watch the majority of the 68-54 loss from the sideline after suffering a hand injury in the first half. With Nwogbo's 12.9 points and 8.2 rebounds per game off the court, Charleston Southern senior guard Saah Nimley stole the spotlight and scored 18 points with eight assists to lead the Buccaneers (8-7, 2-2 Big South) to their seventh home win in eight games at CSU Fieldhouse.
Nimley was Charleston Southern's workhorse on both ends of the floor, playing a game-high 37 minutes and stuffing the stat sheet with three rebounds, three steals and a block. His eight assists led directly to 19 Buccaneer points, including three of Charleston Southern's eight three-pointers.
"Give Charleston Southern credit," Longwood head coach Jayson Gee said. "Barclay Radebaugh had his team ready, and we just didn't do a good enough job getting ours ready. They guarded us differently than we've been guarded before. They went under ball screens and really challenged us to make shots. We shot 29 threes and just didn't shoot the basketball well. Quincy [Taylor] was the only guy that made those on a consistent basis, and we just didn't shoot well."
Taylor knocked down four of Longwood's 10 three-pointers and scored in double figures for the 13th time in his 14 games. But as ready as Gee says Longwood (5-12, 1-3 Big South) may or may not have been, the Lancers were forced to drastically alter their gameplan when Nwogbo suffered the hand injury reaching for a rebound seven minutes into the game. Nwogbo played sporadically over the rest of the first half but missed the entire second half, finishing with a season-low two points and three rebounds in just 14 minutes of action.
"Let's just hope we only missed him for this game," Gee said. "He's one of the most dominant players in this league, maybe more than that. [Coastal Carolina head coach] Cliff Ellis said after the game Thursday, he's played Auburn, he's played UCLA, he's played Ole Miss, and Lotanna was the best big man he's played against. Certainly we need him on our team."
Immediately following Nwogbo's departure at the 13:30 mark, Charleston Southern responded with a 6-0 run that expanded a 22-21 lead to seven points. Even after Nwogbo returned to play sporadically over the remainder of the half, the Buccaneer scoring streak reached 14 consecutive points and swelled to a 26-8 run by the end of the half.
The injury sapped the Lancers of their go-to scoring presence in the post and allowed Charleston Southern to maintain their double-digit lead throughout the entirety of the second half. The deficit grew to as much as 27 points before the Lancers scored 11 straight and eventually whittled the Charleston Southern lead to 14, but that would be the closest Longwood came to closing the gap.
"I thought we were ready to regroup in the second half and do a better job defensively, which we did," Gee said. "We just didn't have enough firepower offensively to close the gap."
Nimley was one of four double-figure scorers for Charleston Southern, joining Cedrick Bowen and Will Saunders' 14 points each and Arlon Harper's 13. The Buccaneers outscored Longwood 26-12 in the paint, which was enough to outpace another double-digit scoring game by Longwood point guard Quincy Taylor and a 12-point performance by Leron Fisher.
The loss comes as the Lancers wrap up a difficult opening portion of the conference schedule, having played four of the top five vote-getters in the Big South preseason poll. Longwood knocked off preseason No. 3 Radford 90-79 in two overtimes on Jan. 3 but dropped an 82-72 overtime game at Winthrop and suffered a 76-70 defeat at Coastal Carolina.
"We have to put this behind us and get ready for a homestand," Gee said. "This was a tremendous challenge. I thought those three games wore us down. To be able to perform at that level on the road drains you emotionally."
The Lancers will have four days to recover in time for back-to-back home games next week. Presbyterian comes to Farmville Wednesday and Liberty visits Saturday where both teams will step onto a home court where Longwood is 4-1 on the year.
"We just have to regroup, take care of our house and get Lotanna healthy even if we have to get him a new thumb," Gee said. "I'll take him with four fingers, to be honest with you."