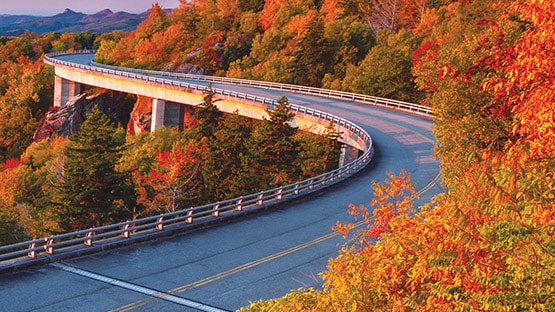 Slope repairs on the Blue Ridge Parkway near Roanoke between milepost 121.4 and 136 are now complete, and the section is now open to drivers, cyclists and pedestrians.
The slope reconstruction was required due to damage from a 2020 storm which led to a road failure. The repairs included installation of soil anchors and reconstruction of the fill slope to stabilize the area and to restore safe access. A 130-foot pipe was installed due to a failed culvert. Also, additional headwalls and drainage elements and paving were part of the project.
The project finished on schedule with a projected completion date of June 2023.
Bridge projects planned; short detours possible at night
The Parkway also announced bridge projects at milepost 61.5 (Route 130) and 121.4 (Route 220) have been delayed due to supply chain issues. The project will replace bridge bearings and address minor concrete repairs. The Parkway anticipates work to begin in late June and be complete by the end of September. Single lane closures are possible in the daytime while work is under way. Visitors may experience full nighttime closures with short detours.
For more information, visit https://www.nps.gov/blri/planyourvisit/roadclosures.htm