An education in politics is a stirring mix of history, procedure, people, and communications. It's a complex field, so a basic education in classes and with books is more of a foundation than a complete experience. For those who are serious about a career in politics, here's how to make the most out of your education.
Campaign Jobs
Summer jobs take a lot of shapes, from waiting tables, to bartending, to experiences at the entry level of a long career path. For students of politics, the starting point is often in grassroots campaigning. Yes, it may not be glamorous to stand with a clipboard or go door-to-door raising awareness about a particular issue or candidate, but it's a great way to get to know what the street-level political environment is like. Today's grassroots job fits on a resume for tomorrow's campaign office gig and beyond.
Political Action Groups
The history and theory taught in politics classes provide an essential background for students of political science. Beyond the classroom, there are many politically engaged student groups that focus on today's issues, keeping their eyes on history in the making. Joining a student group that takes part in demonstrations, campaigning, and other events of modern political import is not only a way to connect with the issues, it's also a way to network with other future political professionals.
Meeting Modern Leaders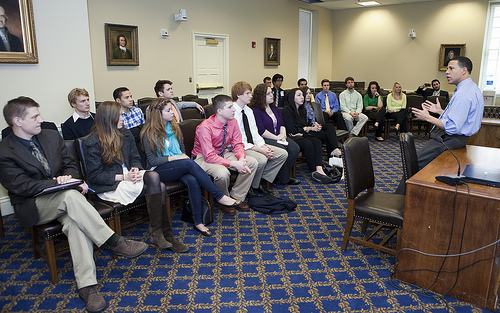 image via Flickr by MDGovpics
Elected officials, campaign managers, and other people currently working in politics are more eager to engage with students than it may seem. Whether it's through internships or just one-time outreach events, many leaders offer opportunities to students who want an inside look at the real world of politics. Many schools facilitate these connections, like George Washington University's GW Online program for political management. Choosing a school that's close to where political action happens and being bold enough to seek out a mentor can be the difference between a standard political education and a jump-started career on tomorrow's campaigns.
Crossing Borders
The most successful elected officials and political professionals don't limit themselves to local or even national concerns. Spending some time abroad is a great opportunity to develop a wider perspective and get to know how people in other cultures solve social challenges. The key to turning international travel into a learning opportunity is to get out of the mindset of the vacationer. Instead of traveling just for fun, political students can visit public buildings in other countries, attend political rallies, and spend some time away from the comfort of the hotel room. Even better, a student who has the chance to study abroad will learn from the best minds in other cultures and earn an attractive item to put on future resumes.
All of the most valuable supplements to a classroom education in politics have something to do with real life experiences. They're about seeking opportunities to expand the learning process with action beyond tests and papers, and often beyond school itself. With the courage and creativity to learn political realities alongside the classroom's political theory, tomorrow's best political officials and professionals match the books they read with hands-on adventures.