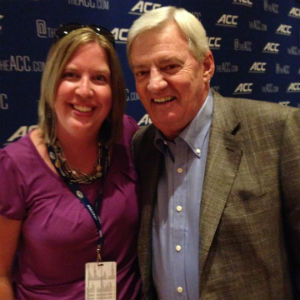 "Are you saving these seats for anybody?" This is Frank Beamer, the Virginia Tech football coach, late to the party, because he's been stopped by everybody on his way to finding a seat in the ballroom at the 2015 ACC Football Kickoff Monday evening dinner, trying to get situated.
What we want to say is, Coach, wherever you want.
"Thanks," Coach Beamer says as he settles down with his wife, Cheryl, at our table.
My wife, Crystal, mind you, is a 1999 graduate of Virginia Tech, and she introduces herself to Beamer noting such.
"1999 … that was a good year," he said.
If you're not a Tech football fan, 1999 is the year that the Hokies went 11-0 in the regular season and played in the national-championship game, leading in the fourth quarter before losing to Florida State.
He was already late to getting seated, and then he couldn't go to the buffet line to get his dinner because everybody who was anybody in the ACC wanted to get a minute with him.
It got to the point where Tim Brandt, one of the TV voices of the ACC, who was emcee of the big dinner event, was getting started with the program, and Beamer still didn't have dinner in front of him.
It came, eventually, though dessert was even later in coming. Cheryl went to get dessert for the two of them, but she was detained.
Sorry, Frank, she said, when she made her way back to the table, nearly 20 minutes later, two desserts in hand.
She'd run into Paul Johnson's wife, and the two just got lost getting caught up.
Not that the coach was on the lookout for a lot to eat. Svelte as he was back in his playing days, Beamer said he's down 40 pounds in the past few months.
The program died down, and there was an awkward silence, which I filled by getting Coach Beamer's attention.
"I'm a UVA grad," I began, further explaining that I've been married to my Tech alum wife for going on 15 years, and my side has won one of the football games in that span, "but she took that one harder than I took the other 14."
"And I imagine you took that one harder, too."
Beamer responded like a good politician when we all got up to leave a few minutes later.
"You need to keep this guy in line," Beamer said, nodding to Crystal.
It's hard to root against a guy that failingingly poite. I will do so, because that's the natural order of things, for a 'Hoo to root against a Hokie.
But it will still be hard.
– Column by Chris Graham