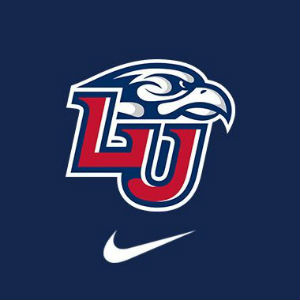 Liberty got back in the win column Saturday night at the Vines Center, pulling off a 77-65 victory over Gardner-Webb. The Flames improve to 16-11 overall and 7-7 in conference, while Gardner-Webb falls to 12-15 and 7-7 in the Big South.
"I think our team showed some maturity tonight," head coach Ritchie McKay said. "I have a ton of respect for Coach (Tim) Craft and his staff so I knew they were going to make a run. But our group was composed, took care of the basketball and made some plays when we needed to."
When Liberty was up by one (62-61) with 5:50 left in the game, Liberty ended the game on a 15-4 run, including shooting a perfect 10-of-10 from the free throw line.
Liberty was efficient on offense all night, dishing out 17 assists while committing just eight turnovers. While Liberty took care of the ball, its defense forced 12 turnovers and allowed just nine assists. The Flames presented a balanced scoring attack against the Runnin' Bulldogs as nine different players scored, four in double-digits led by Elijah Cuffee and Ryan Kemrite with 15 points. In addition to Cuffee's career high in points, the freshman also tied his career high in three-pointers (3-of-6) and also his career high in assists (5). Lovell Cabbil filled the stat sheet with career highs in assists (7), rebounds (9) and scored six points as well.
After Liberty started the game with an 8-4 lead, Gardner-Webb went on an 11-0 run led by David Efianayi's six points. Liberty would cut Gardner-Webb's 11-points lead, holding GWU scoreless for nearly four minutes and would tie the game off a Cuffee three-pointer (20-20) with eight minutes left in the half.
After trying the game, Liberty would regain the lead, holding the Runnin' Bulldogs on another scoring draught. As the Bulldogs went scoreless for two and a half minutes, the Flames would take the lead (22-20) off a jumper by Myo Baxter-Bell.
The Flames turned up the heat to close out the first half, holding Gardner-Webb to two points in the final three minutes to go into halftime with a 35-28 lead. The Runnin' Bulldogs made just two of their final 10 shot attempts in the first half. While Liberty took care of the ball in the first half just turning the ball over three times, Liberty's defense forced eight turnovers, which led to nine points for the Flames.
Liberty had eight different players score in the first half led by James with a team-high nine points and five rebounds. Liam O'Reilly led all scorers with 10 points in addition to three assists. While Liberty shot 46.7 percent attempting 30 shots in the first half, Liberty's defense allowed Gardner-Webb to just attempt 19 shots in the half.
Looking to maintain the lead, Liberty was efficient on offense coming out of the locker room, making its first three three-pointers to open the second half. Sparked by the three-pointer, Gardner-Webb made five straight field goals to come within three points (52-49) of Liberty's lead.
Each time Liberty tried to extend its lead, Gardner-Webb would respond with a bucket, shooting 46.2 percent in the second half (12-of-26). As Gardner-Webb looked to turn the tide and take the lead, Liberty buckled down on defense, not allowing GWU to make a field goal in the final three minutes of regulation.
Next week the Flames will be on the road for the entire week, starting out with UNC Asheville, who sits in first place in the Big South. Liberty will then close out the week at Campbell. Tipoff against UNC Asheville is set for Thursday, Feb. 15, at 7 p.m. at Kimmel Arena.