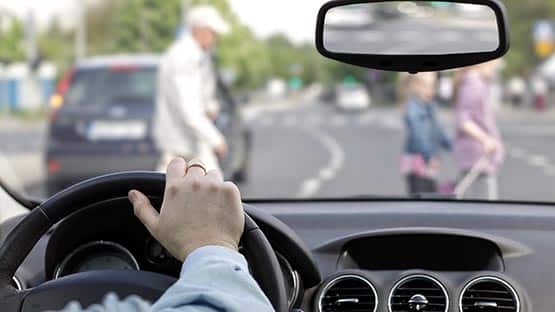 A professor at Virginia Tech has been studying why people walk less in the United States – and his findings show it's because "it's more dangerous to walk here."
Ralph Buehler, a professor of urban affairs and planning at Virginia Tech, said walking conditions are worse for Americans compared to other countries.
"So we're caught in a bit of a spiral that discourages walking and encourages driving in the U.S.," he said.
A recent article published in Sustainability, an international open-access academic journal, show that overall Americans walk less than individuals in many other countries while also having a higher walking fatality rate per kilometer walked.
"We were interested in figuring out how more people can walk while increasing pedestrian safety," said Buehler, who completed the project with John Pucher of Rutgers University. "Walking doesn't have to be a means of transport of last resort. There are tools and policies out there to make it safer and more attractive."
For example, according to the study, Americans make fewer than half of the walking trips per day compared to Britons yet are about six times more likely to be killed while walking per mile traveled.
The 11 countries studied from 1990-2020 all saw pedestrian fatalities per capita decrease, but the numbers dropped substantially less in the U.S. Americans had a 26 percent decrease compared to 78 percent in the U.K., for example.
Other countries also worked to improve pedestrian safety from 2010-2020. The U.S. saw a 25 percent rise in pedestrian fatalities over the decade.
"It's not only that walking is less safe in the U.S., the trends in walking safety are going in the wrong direction," Buehler said.
A cultural shift that prioritizes pedestrians during the roadway planning process is needed to change the culture in the U.S., the authors say.
"We in the U.S. walk less even though there are a large number of trips that would be short enough," Buehler said. "For example, Northern New Jersey has roughly the population density of the Netherlands, but it's been planned for cars. So across the street you can see your destination, but because in between there is a six-lane roadway with no crosswalk, it's very dangerous or impossible to get there."
Lower speed limits, enforced by both police and traffic cameras, as well as tightened laws related to drunk and distractive driving could greatly benefit safety for both drivers and walkers, according to the authors.
"If a pedestrian gets hit, we often sort of blame the victim," Buehler said. "We have to put the responsibility of avoiding that on the people who operate the two-ton machines rather than the people who are walking and have no physical protection around them."
Many countries with safer walking rates also have more restrictive driving regulations.
"One of the most dangerous jobs in the U.S. is that of a crossing guard," Buehler said. "So it's very dangerous, even around schools, for kids to walk to schools. As a result, parents decide to drive them to school and then there are even more cars driving around those schools."
The warmer weather may also provide an opportunity to play a critical role in making communities safer for foot travel.
"People who are out and walk daily, they know about dangerous situations, they know about the sidewalk missing links, they know about the traffic signals that don't work," Buehler said. "They have to talk to their local politicians, their town and city engineers, because what we're finding again and again is those folks don't really know what's out there."