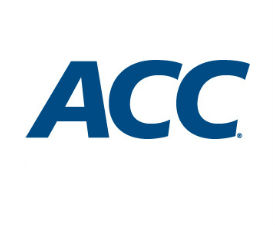 Boston College running back Andre Williams, who shattered a pair of league rushing records with his performance on Saturday, leads the group of eight ACC Football Players of the Week announced on Monday.
Williams was named the ACC Offensive Back of the Week after rushing for a league single-game record 339 yards in the Eagles' 38-21 win over NC State. The outburst lifted Williams' rushing total for the fall to 1,810 yards in 10 games, eclipsing the previous ACC single-season rushing record of 1,798 yards set by Virginia's Thomas Jones in 1999.
Other ACC honorees this week include Boston College's Matt Patchan as Offensive Lineman of the Week, Clemson's Martavis Bryant as Receiver of the Week, North Carolina's Kareem Martin as Defensive Lineman of the Week, Duke's Kelby Brown as Linebacker of the Week, Duke's Deondre Singleton as Defensive Back of the Week, North Carolina's Ryan Switzer as Specialist and Co-Rookie of the Week, and Maryland's William Likely as Co-Rookie of the Week.
The ACC Offensive Back of the Week honor is the second of the season for Williams, who was also cited on Sept. 9. Duke's Brown was recognized as ACC Linebacker of the Week for the third time this season and the second time in as many weeks. North Carolina's Martin picked up his second ACC Defensive Lineman of the Week honor.
OFFENSIVE BACK – Andre Williams, Boston College, Sr., RB, 6-0, 227, Schnecksville, Pa
Williams carried 42 times for an ACC single-game-record 339 yards and two touchdowns in Boston College's 38-21 home victory over NC State on Saturday.  Williams' 339 rushing yards against the Wolfpack also represents the highest single-game rushing performance in the FBS this season. Williams broke the previous ACC single-game record of 329 yards set by Wake Forest's John Leach against Maryland in 1993. Through 10 games in 2013, Williams has recorded 288 carries for an ACC and Boston College single-season record 1,810 yards. Williams surpassed the previous ACC mark of 1,798 yards set by Thomas Jones of Virginia in 1999 and the previous Boston College record of 1,726 set by Mike Cloud in 1998.
OFFENSIVE LINEMAN – Matt Patchan, Boston College, Sr., 6-7, 300, Tampa, Fla.
Patchan graded out at 92 percent with five knockdowns and two plus blocks, paving the way for running back Andre Williams to establish a Boston College and ACC single-game rushing record of 339 yards in the team's 38-21 home victory over NC State on Saturday.  The individual performance by Williams marked the highest single-game rushing performance in the FBS this season. Combined with the efforts of freshman RB Myles Willis, Boston College rushed 53 times for 420 yards, marking the first 400-plus yard rushing effort since it totaled 518 yards on the ground against Massachusetts in 1973.
RECEIVER – Martavis Bryant, Clemson, Jr., WR, 6-5, 200, Calhoun Falls, S.C.
Bryant recorded a career-high 176 receiving yards on five catches to lead Clemson in last Thursday night's 55-31 win over Georgia Tech. It marked the most receiving yardage by a Clemson player this season and the fifth-most yards in school  history. Bryant caught a 76-yard scoring pass from Tajh Boyd in the second quarter that gave Clemson a 27-7 lead. The play contributed to his 35.7 yards per catch average for the evening.
DEFENSIVE LINEMAN – Kareem Martin, North Carolina, Sr., DE, 6-6, 265, Roanoke Rapids, N.C.
Martin recorded eight tackles, 3.5 sacks for 34 yards, forced two fumbles, recovered a fumble, broke up a pass and had two quarterback hurries in North Carolina's 34-27 win at Pitt.  In the first half alone, he had six tackles, three sacks and forced a fumble that was recovered by UNC linebacker Travis Hughes. Martin and the Tar Heels held Pitt to just 148 yards in the first half, including a mere three yards rushing.
LINEBACKER – Kelby Brown, Duke, Jr.-R, LB, 6-2, 230, Matthews, N.C.
Brown helped Duke to a 48-30 upset win over No. 24 Miami by totaling a game-high 17 tackles with a tackle-for-loss, a forced fumble and a quarterback pressure. With Miami facing third-and-1 from its own 47-yard line late in the third quarter, Brown recorded his tackle for loss and caused a fumble with a hit on running back Dallas Crawford to force a punt. Brown helped hold the Hurricanes to just 10 points in the second half as Duke turned a 21-20 halftime lead into the 48-30 victory. With Duke nursing a 31-30 lead after three quarters, Brown spearheaded the Blue Devils' defensive unit that allowed zero points in the final period and stymied Miami on its final five possessions.
DEFENSIVE BACK –Deondre Singleton, Duke, Fr., S, 5-11, 175, Dacula, Ga.
Singleton recorded 10 tackles, intercepted one pass and broke up two more in the Blue Devils' 48-30 win over No. 24 Miami.  With Duke trailing 17-7 in the second quarter and Miami having driven from its own 10-yard line to midfield, Singleton picked off Hurricane quarterback Stephen Morris to set up a touchdown drive that pulled the Blue Devils to within 17-14. Singleton joined Brown as a leader on a defensive unit that held the Hurricanes to 10 points in the second half and scoreless on their final five possessions.
SPECIALIST & CO-ROOKIE – Ryan Switzer, North Carolina, Fr., PR, 5-10, 175, Charleston, W.Va.
Switzer returned two punts for touchdowns in North Carolina's 34-27 win at Pitt.  He had a 65-yarder in the second quarter and a 61-yarder in the fourth quarter to break a 27-all tie with 4:46 remaining.  The only other player in UNC history to score twice on punt returns in the same game was defensive tackle Andre Purvis, who recovered two blocked punts in the end zone against Tulane in 1993. Including his 85-yard punt return Nov. 9 against Virginia, Switzer now holds the UNC single-season record for most punt return touchdowns with three.  The previous record of two was held by six other players – Johnny Branch in 1930, Charlie Justice in 1948, Norris Davis in 1987, Purvis in 1993, Bosley Allen in 2000 and Giovani Bernard in 2012.
CO-ROOKIE – William Likely, Maryland, Fr., CB, 5-9, 165, Belle Glade, Fla.
Likely returned a punt 63 yards for a touchdown for Maryland's first score of the game in Saturday's 27-24 overtime road win at Virginia Tech. Likely's punt return for a touchdown was a career first and Maryland's first punt return for a score since Tony Logan returned one 84 yards for a score against Duke on Oct. 2, 2010. Likely averaged 26.5 yards on four punt returns and finished the game with 179 all-purpose yards (106 punt return yards, 73 kickoff return yards). He also contributed three tackles and broke up a pass.