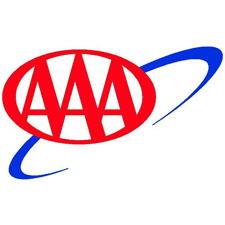 Not even in 2001, 13 years ago when AAA began keeping holiday travel records, did as many Virginians travel for Independence Day as will in 2014, according to AAA.
AAA estimates a record 1.16 million (1,158,038) Virginians will travel to celebrate our nation's independence between Wednesday, July 2   and Sunday, July 6.  Not only is that number record breaking, but it also represents the first increase for July 4 since 2011.
The vast majority of Virginia travelers, over a million (1,003,726), will hit the roads, the most ever on record despite the highest Independence Day gas prices in six years.
Virginia Holiday Travel Forecast Highlights:
Forecast is up 1.9 percent from 1.14 million in 2013.
Increasing consumer confidence is fueling higher spending and the number of travelers, as many are more comfortable using credit cards to pay for their holiday get-a-way.
Road trips will account for 87 percent of travelers, a two percent increase from 2013.
Holiday air travel up 1.7 percent while airfares are down five percent from 2013.
Hotel rates at AAA Two Diamond and Three Diamond properties are up to 15 percent from 2013.
"Overall holiday travel has been steadily, yet slowly, inching up since 2008, however, this July 4th the numbers are not only a post-recession high, but are the highest since AAA began forecasting with its current model 13 years ago," said Martha Mitchell Meade, Manager, Public and Government Affairs for AAA Mid-Atlantic.  "This record high number of travelers, despite the likelihood of the highest July 4th gas prices in six years, tells us that travelers are looking forward to better economic times," added Meade.
Impact of Gas Prices on Travel Plans
AAA expects the majority of drivers in the Commonwealth will pay the highest gas prices for Independence Day since 2008. Virginia's average price of gas today, ($3.49), is 16 cents per gallon more expensive than the average on July 4, 2013, which was $3.33 per gallon.  In recent years gas prices have declined leading up to Independence Day, but this has not occurred in 2014 due to the high cost of crude oil resulting from violence in Iraq.
VDOT lifts lane closures for the holiday, includes new travel time messages
The Virginia Department of Transportation (VDOT) is lifting lane closures for the holiday weekend effective noon Thursday, July 3 through noon on Monday, July 7 for easier travel. Additionally, VDOT has been extending the popular Reach the Beach campaign through the Richmond District to include dual travel times for drivers along the I-95, I-295 and I-64 corridors.  The new messages will display approximate travel times to reach the Williamsburg area and Virginia Beach.
VDOT began testing these messages in mid-May in preparation for the Memorial Day holiday weekend. Similar messaging has proved successful in areas such as Northern Virginia and Hampton Roads in providing accurate, real-time travel time information to drivers, allowing them to choose whether to continue on their route or take an alternate. Travel times also reduce trip-related anxiety and traffic congestion.
"The Richmond area is experiencing more and more beach traffic and we want to keep drivers informed," said Robb Alexander, regional operations director. "These new messages will allow drivers to make the best decision for their travel." Drivers can expect travel times to be regularly displayed during daylight hours beginning Fridays at noon through Sundays at 10 p.m., with additional times during holidays as needed.
In the event of a traffic incident or a work zone, the Traffic Operations Center in Chester has the ability to override the travel time messages and display higher priority messages. VDOT will also have opportunities to combine the higher priority messages with travel times to give drivers a more accurate picture of the traffic situation through the area.
Highway Safe Driving Practices
Unfortunately, the Fourth of July holiday weekend is also considered one of the deadliest holidays during the year because of crashes involving intoxicated drivers. To ensure safety on the road, motorists can expect to see increased patrols and enforcement by the Virginia State Police as part of the annual, nationwide Operation Combined Accident Reduction Effort (C.A.R.E.).  This traffic-safety campaign requires 75 percent of all state troopers to be on patrol throughout the extended Fourth of July holiday weekend with a concentration on impaired drivers, speeders and unbuckled motorists.
During the 2013 Fourth of July holiday weekend, seven people lost their lives in traffic crashes. In addition, Virginia State Police made 104 DUI arrests and cited 11,350 speeders. Troopers also cited 1,053 safety belt violations and another 335 child safety belt violations.
"Precious lives are lost every day because someone made the decision to drive while intoxicated or fails to buckle up," said Sergeant Steve Vick, Public Information Officer for Virginia State Police Richmond Division.  "It's not just against the law, it's unacceptable to put the lives of motorists at stake. We are encouraging everyone this holiday weekend to drive to save lives."
The Rockets' Red Glare
This time of year is an exciting time to gather with friends and family over BBQs, pools and for some it also means the use of fireworks.  AAA and Virginia State Police are reminding you that it is not only hazardous but illegal to transport most fireworks in a vehicle.  Bottle rockets and mortar shots all illegal items to transport in a vehicle.
"Any firework other than a sparkler, projectile or exploding firework, is illegal to transport in a vehicle in the Commonwealth of Virginia," advised Vick.  "Additionally, it can be very hazardous if a vehicle were to strike another vehicle carrying fireworks as it has the risk of igniting and causing serious damage, injury and possibly death."