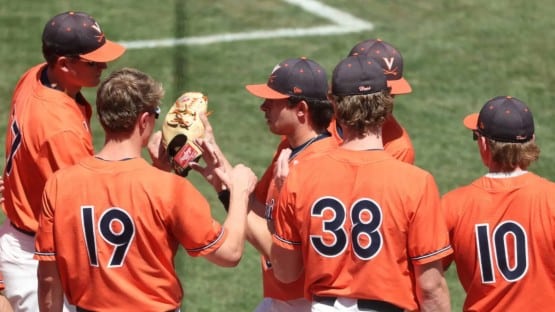 Virginia registered its third ACC sweep of the season with an 8-3 win over Louisville in the series finale on Sunday.
The 14th-ranked 'Hoos (41-11, 16-11) finish its home regular season slate with a record of 32-4 at Disharoon Park, tied for the most regular season home victories in program history.
The win also puts Virginia in a tie for first in the ACC Coastal with Miami (34-17, 16-11 ACC).
It once again started on the mound for Virginia as starting pitcher Brian Edgington turned in six scoreless innings and fanned eight batters. He surrendered just two hits and allowed only one runner to reach second base.
Beginning with the last out of the first inning, Edgington retired 13-straight batters before giving up his only extra base hit of the afternoon, a leadoff double in the sixth.
Edgington improved to 7-3 on the season and now tied for the staff lead with five quality starts.
For the weekend, Virginia starting pitchers Nick Parker, Connelly Early and Edgington combined to throw 18.1 innings, allowed three runs, struck out 19 and did not surrender a walk.
At the plate, Virginia was led by multi-RBI efforts from Ethan Anderson, Casey Saucke and Kyle Teel who each drove in a pair of runs.
Virginia will play its final three games of the regular season beginning Thursday when the Cavaliers open up a three-game series at Georgia Tech (30-21, 12-15 ACC).
First pitch on Thursday and Friday is scheduled for 6 p.m. while the regular season finale will take place at 1 p.m. on Saturday.