Late comeback opportunities silenced for Squirrels in fourth straight loss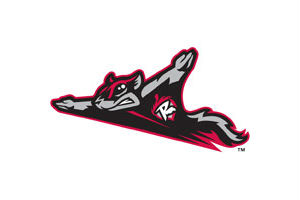 The Richmond Flying Squirrels were unable to snap their second-half cold spell as they fell to the Bowie Baysox, 4-2, Friday night at Prince George's Stadium.
The Flying Squirrels (40-33, 0-4) suffered their fourth consecutive loss against the Baysox (31-42, 4-0), their longest losing streak of the season.
On the second pitch of the ballgame Mike Gigliotti crushed his seventh home run of the year, a solo shot, to right field and Richmond gained a 1-0 lead.
The Baysox tied the game, 1-1, in the bottom of the first when Coby Mayo lined an RBI single off Richmond starter Kai-Wei Teng (Loss, 4-6). Teng allowed three runs over 5.2 innings and racked up seven strikeouts.
Brandon Martorano led off the fifth inning with a single, stole second base and advanced to third base on a Bowie throwing error. Jacob Heyward brought him home with a sacrifice fly out to right field and gave Richmond back the lead at 2-1.
In the sixth inning, Hudson Haskin tied the game with a solo home run and Andrew Daschbach bounced into an RBI fielder's choice to give Bowie a 3-2 advantage. Gray Fenter entered the game and walked the first batter he faced to load the bases but fired back with a strikeout to escape the jam. Fenter struck out three of the five batters he faced over 1.1 innings.
The Baysox upped their advantage to 4-2 in the eighth inning when Joseph Ortiz scored from third base off a wild pitch.
Richmond had two runners on with one out in the eighth inning but a double play smothered the comeback effort. Shelton Perkins (Save, 3) allowed a two-out hit in the ninth inning, but answered back with a flyout to secure the Baysox victory.
Bowie starter Noah Denoyer tossed five innings with four hits and two runs allowed (one earned) with a season-high nine strikeouts. Adam Stauffer (Win, 2-1) totaled three scoreless innings of relief along with five strikeouts.
On Saturday, the Flying Squirrels and Baysox will square off at 6:35 p.m. from Prince George's Stadium. Left-hander Kyle Harrison (2-1, 4.02) will get the start for Richmond opposed by right-hander Zach Peek (0-2, 2.68) for Bowie.
The Richmond Flying Squirrels' Independence Day game has sold out, but additional fireworks shows will be held on Thursday, July 7, and Saturday, July 9. Tickets remain for the other five games of the Flying Squirrels' homestand at SquirrelsBaseball.com/Tickets, by phone at 804-359-3866 or in person at the Flying Squirrels ticket office.