So you're saying there's a chance: How improbable was that Virginia win?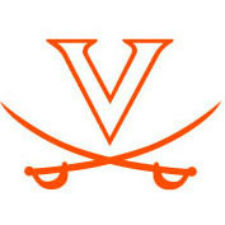 With nine-tenths of a second to go, Virginia trailing by four, the 'Hoos had, according to Barttorvik.com, a 0.1 percent chance of winning.
To even get to that stage, UVA had to pull itself up off the canvas several times, after Louisville, in need of a knockout punch to get a win to solidify its NCAA Tournament resume, delivered several, leading by 13 in the first half, then after Virginia pulled to within three early in the second half, going back up 13 again.
After all of that, the 'Hoos tied the game on a pair of Ty Jerome free throws with 1:59 to go, then got the ball back with a chance to take a lead for the first time since the 16-minute mark of the first half.
Back-to-back turnovers turned the game into a free-throw shooting exhibition, and Louisville made 6-of-8 in the final 38 seconds, keeping the door slightly ajar, but not much.
A pair of Darius Perry free throws with five seconds left had the margin at 66-62, and it was up to UVA to throw something toward the basket as the final seconds of the huge Cardinals upset played out.
Perry, a freshman in the game because he was a 93 percent foul shooter, for some reason challenged a Jerome three, fouling him with nine-tenths of a second left.
Obviously, the strategy for Virginia would be, make the first two, then try to miss the third, get a rebound, get it on the rim, see what happens.
As usually happens in these kinds of things, it didn't work. Whether it was Kyle Guy or Mamadi Diakite who was called for the lane violation is not clear right now – the score book as I'm writing this has the violation on Diakite – but the effect was the same.
Louisville ball, underneath the UVA basket, nine-tenths left. Throw the ball inbounds, game over.
Now, looking back on it, you have to concede here, if not for that lane violation, Virginia has no chance. That play never works, and you can watch the replay, it wasn't going to work here. Louisville got the rebound, and without the whistle, the game ends there.
Back to where we were: get the ball inbounds, game over. Louisville coach David Padgett went with who you have to presume he thinks is his best inbounder, Deng Adel, and you have to presume that one of the several guys in suits on the Louisville bench goes up to him during this and says, Remember, spot throw in, can't run the baseline.
The official, handing Adel the ball, emphatically made that point. And then Adel started to run the baseline, resulting in a traveling violation, giving the ball back to Virginia, down two, still nine-tenths left.
At this stage, Padgett tried to make a defensive substitution, and ultimately was allowed to, but in the confusion over whether it was permissible, since no time had gone off the clock, UVA coach Tony Bennett had a chance to draw up something in the form of a play.
Jerome was set to inbound. It looked like the idea was to try to rub Devon Hall off a screen from De'Andre Hunter, and if that didn't lead to anything, then run Kyle Guy off a second Hunter screen.
Hall ran through and was covered. Guy broke off his cut and floated back out beyond the top of the key.
Hunter, in the fog of war, leaked out from his screen, wide open about five feet behind the three-point line. Jerome delivered a perfect pass, Hunter caught it and shot in one motion, used the glass.
Ballgame.
Literally less than a second to go, Louisville had a 99.9 percent chance of winning the game, and lost.
But it didn't all happen in the final nine-tenths. Louisville dominated most of the night, seizing control with an early 19-3 run that put them up 13 11 minutes in, then seemingly breaking the game open with a 14-4 run that made it a 13-point game again inside of 11 left.
It was still 10 with 4:14 to go when Hunter, to that stage having scored just one point on the night, drained a three to make it 56-49, igniting a 12-2 run that tied the game inside of two to go.
The work to get back from down 13 to tied was what you'd expect. Louisville made just two of its last 12 shots from the field in the last 10 minutes, and Virginia shot 13-of-20 down the stretch after hitting just 11 of its first 36.
This from a team that had every reason to think it just wasn't its night. Louisville, on its side, had everything to play for, most significantly an NCAA bid that a month ago seemed a lock, now not so much.
For seemingly forever Thursday night, Louisville did what it needed to do, leading most of the way, taking control after Virginia had rallied to tie the game, making six of its eight shots from the foul line in the last 38 seconds.
The conventional wisdom is that to beat this Virginia team this year, you need to play perfect basketball for 40 minutes.
Louisville learned the hard way that you can't even give the 'Hoos nine-tenths of a second.
Story by Chris Graham