Sports
Waynesboro Generals alum Eric Stout pitches twice in relief in Camden Yards over the weekend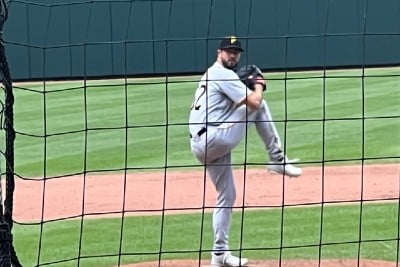 I got a nice surprise this weekend in Camden Yards: the opportunity to see former Waynesboro Generals lefty Eric Stout pitch in relief twice for the Pittsburgh Pirates.
Stout spent one summer in Waynesboro, in 2012, going 6-1 with a 3.86 ERA, 1.338 WHIP, 4.8 BB/9, and 6.5 K/9 in 58.1 innings.
Stout, an alum of Butler University, was taken by the Kansas City Royals in the 13th round of the 2014 MLB Draft, and made his big-league debut for the Royals in 2018.
He spent the 2019 and 2021 seasons in the minors in the Cincinnati and Miami systems, before working his way back up to MLB with Chicago earlier this year, then going to the Pirates in a June 21 trade.
In Pittsburgh, Stout has appeared in five games, with a 3.38 ERA, 0.750 WHIP, four Ks, one base on balls and three hits allowed in 5.1 innings.
It's been a long road for Stout, 29, who is 24-18 in 211 appearances, 19 starts, with a 4.29 ERA, 1.396 WHIP, 3.9 BB/0 and 8.2 K/9 in eight minor-league seasons.
Just for fun, here's an interview I did with Stout after a 5-1 Waynesboro win over the Harrisonburg Turks back in 2012.