One-on-one with UVA football coach Bronco Mendenhall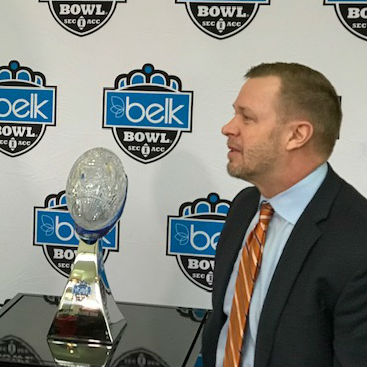 It took a few weeks for it to sink in, but by the end of September, it was clear: this UVA football team is playing Bronco Mendenhall football.
---
Augusta Free Press coverage of the 2018 Belk Bowl is presented by Bear Creek. AFP's coverage is also sponsored by Studio 3•6 on East Market Street in Charlottesville.
---
A defense built on speed, guys flying to the ball. An offense featuring a quarterback who can throw the ball downfield and move the chains with his feet.
Athletic, fast, big.
I say this to Mendenhall today at a Belk Bowl press event in Charlotte, and tell him that I thought maybe things were a year ahead of schedule in terms of him having things in place.
And then: he agreed with me on that.
"This is what we had envisioned schematically and identity-wise when we arrived. I actually thought it would take one more year to have it start to manifest as clearly as it has this year. I'm not saying we've arrived, but we are a little ahead of schedule from what I'd thought in where we were and how we've played. But the defense is resembling what we've known and are always used to. And the offense has now, with that style of play at quarterback, has really become Year 1 as to what our intent is," Mendenhall said.
The writers and broadcasters had the 2018 'Hoos finishing seventh in the seven-team ACC Coastal Division back at the ACC Kickoff in July.
Coincidence, that the Kickoff is also held in Charlotte, and here we are, getting ready to watch UVA face South Carolina in a bowl game.
I'm not casting aspersions or anything. I thought I was being optimistic pegging UVA at fifth in the Coastal, and I probably was.
I remember writing before the season that we'd know by the end of Week 3, the scheduled home game with Ohio U., where this season was going.
A big win in Week 1 over Richmond, a frustrating loss in a downpour at Indiana in Week 2, then a win in Week 3 over Ohio, in a game played at Vanderbilt, trying to get ahead of a hurricane, had the Cavaliers at 2-1, and on their way.
Virginia actually sat atop the Coastal standings heading into November, and were a pair of overtime losses at Georgia Tech and Virginia Tech away from a nine-win regular season.
Which is fine. It's the way the season got to this point that has impressed me.
The defense is third in the ACC in scoring defense and total defense, after losing its heart and soul, Micah Kiser and Quin Blanding, to graduation. The offense is scoring seven points more per game after losing quarterback Kurt Benkert to the NFL.
The defense is built on speed and will. Both are best exhibited in junior cornerback Bryce Hall, a two-star high-school recruit who is now listed as a projected first-round pick on 2019 NFL draft boards.
The offense has as its bellwether Bryce Perkins, a junior-college transfer who stepped in immediately and set a new UVA single-season record for total offense, and in the process set a (catchphrase alert) new standard for future Cavalier quarterbacks.
I asked Mendenhall today if it helps him and his staff sell what they want to do on offense to new recruits to e able to point to how Perkins runs the attack.
"It does, and rather than saying, showing," Mendenhall said. "And then when they come, and they see Bryce, they stand by him, and they say, Wow, he's not only a great young man and great leader, but look at his size, look at his speed. He's impressive. There really isn't a quarterback that we think is dynamic and exceptional that doesn't come and see Bryce and say, Oh, I thought I was good, but I think he's better than me, and maybe this is a good place for me to come."
So, now you know, for the foreseeable future, what UVA football will look like. It will be fast on defense, it will feature an offense with a quarterback who throws downfield and darts between defenders for first downs.
But, there is still this little matter of a bowl game still to play before we can start thinking football future.
It would be nice to send the UVA football program into the offseason with a win, as a building block for 2019.
"Getting back to postseason was the first step. That was one of the primary goals of the season, because it had been 14 years. Sometimes that fact has been lost on the process. It has not been easy for Virginia to do, and we have done that," Mendenhall said.
"That's not to say that winning doesn't accelerate it to a different level, and that's really our only intent in coming. The players have embraced that as the new standard, where postseason is now expected, and winning is expected, so it's my job to help them do that."
Column and interview by Chris Graham