Offseason Outlook: Kihei Clark to take on a bigger role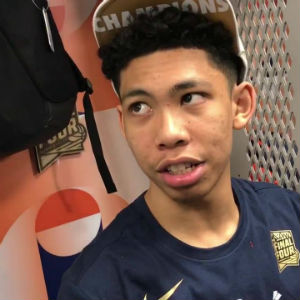 Times are a changin' for the national champion Virginia Cavaliers. Tony Bennett's squad is undergoing significant reconstruction following the early NBA Draft entries of Ty Jerome, De'Andre Hunter, Kyle Guy and Mamadi Diakite (who still has until May 29 to decide whether he will remain in or return). Marco Anthony, a seldom-used reserve, also is leaving the program via transfer, and Jack Salt has exhausted his eligibility. Class of 2019 recruits Casey Morsell, Kadin Shedrick and Justin McKoy are on their way in. That leaves Bennett and his staff having to fill at least three scholarships — four if Diakite stays in the draft — in the next few weeks. That process will certainly include at least one player eligible immediately as a graduate transfer or a Class of 2019 recruit. It could also include the addition of an undergraduate transfer, someone who won't be able to contribute until next season. Virginia has been linked to players in all three categories.
Though the Cavaliers are currently shorthanded, the development over the next few months of the players currently on the projected 2019-2020 roster will be crucial to the team's chance to rebuild following the most successful season in program history. This series examines what each individual needs to do this summer to make the most out of a semi-transitional year for what has become one of the nation's best programs.
Tipping off the series is the player who will be given the keys to the offense, Kihei Clark.
The numbers
38 games (20 starts); 26.8 mpg; 4.5 ppg on 35.0/34.1/82.5; 2.3 rpg; 2.6 apg; 1.0 tpg
The strengths
Clark provided a new dimension to the Cavaliers' already-fierce defense as a freshman: constant ball pressure. The lightning-quick point guard was a nuisance to opposing guards all season long, and his individual highlights included singlehandedly forcing a 10-second violation against VCU and frustrating Virginia Tech star senior point guard Justin Robinson into a technical foul in early January. Clark was one of the rare true freshman who mastered Bennett's pack line defense from the start, and he saw pretty consistent playing time because he excelled on that end. Furthermore, Clark avoided fouls exceptionally well for an on-ball defender. He only committed more than three in one game all season and was called for just 2.0 fouls per 40 minutes, per Kenpom.
Clark also proved to be a crucial ball-handler for the Cavaliers, who didn't have a ton of guard depth and are in line to have even less this coming year. Even though he didn't direct the offense often while sharing the court with Jerome, Clark was adept at bringing the ball upcourt and at least getting the offense started, giving Jerome precious time off the ball. Clark, like most first-year college players, made some poor decisions with the ball in his hands, but to average just one turnover per game is a testament to his understanding of the game and ability to learn from mistakes. For example, after turning it over six times against Miami (a game Jerome missed with a back injury), Clark had just three turnovers over the next nine games.
Finally, Clark's feel for the game is something that can't be expressed in numbers. The play that best illustrated that feel was the memorable pass he made to Diakite for the game-tying buzzer-beater at the end of regulation against Purdue. Clark played with a level head and showed maturity well beyond his years. On several occasions with the shot clock running down, Clark used his quickness to get around his defender in a one-on-one situation. Clark's free throw rate (free throws attempted divided by field goals attempted) of 25.5 was higher than that of both Jerome's and Guy's. He was also able to defend multiple positions all season even at just 5-foot-9 and 155 pounds. In the national championship, his primary defensive assignment, 6-foot-3, 200-pound Matt Mooney, scored just 10 points. Clark is an extremely smart player, which helps him overcome his lack of size.
The weaknesses
Though he had several important moments and made several big shots throughout the season, Clark was not a particularly good offensive player. He scored zero points in eight different games on the season, including three in a row in mid-February when he shot a combined 0 for 11. When Clark's three-point shot wasn't falling, opposing teams could sag off of him, clogging the lane and making life more difficult for the rest of the offense. Clark had an offensive rating of 105.9, lowest among Cavalier regulars.
While Clark's outside shot was up-and-down throughout the season, the one area in which he struggled most was inside the arc. Clark shot just 45.5 percent at the rim and an ice-cold 21.4 percent on two-point jumpers, per Hoop Math. Opponents swallowed up Clark when he got to the basket, and anything in between the basket and the three-point line proved to be ineffective. But that's why there's a category called…
The offseason agenda
The biggest change Clark will make this offseason is adapting to his new role. This coming season, he will be the only ball-handler with any experience in Bennett's offense. One of the reasons Virginia has been so successful recently is the chain of outstanding point guards passing the torch to the next — from Malcolm Brogdon to London Perrantes and from Perrantes to Jerome — and whether or not Clark joins that list remains to be determined. Clark was the Cavaliers' least-used player on the offensive end according to Kenpom. Now, he will likely be one of — if not the — most. Adapting to that role as a leader and floor general is the first major step, and Bennett will be a important helper along the way.
Next, as the numbers from above suggest, Clark must improve his shooting and his one-on-one offensive game. Clark did not make a single unassisted three. Overall, he made more assisted shots (29) than unassisted shots (26). With the shot-creating ability of Jerome and Hunter and the shot-making ability of Guy now a thing of the past, Clark must become more capable forcing the issue with the ball in his hands. That means a lot of time spent on his ball-handling ability in tight areas and his ability to finish off the dribble. Because of his lack of size, Clark will have trouble ever being a great interior finisher, but significant improvement on his floater and his pull-up jumper can help assuage those issues.
The outlook
Clark was a terrific addition to the Cavaliers this season and probably outperformed most expectations placed upon him as an underrated, undersized prospect picked up late in the recruiting cycle. Simply put, Virginia doesn't win a national championship — and perhaps doesn't even come close — without him. His outstanding quickness, one-on-one defensive skill and small stature earned him comparisons to Jontel Evans, Bennett's first point guard in Charlottesville. Clark is a more willing and capable outside shooter than Evans, but Evans developed into a far better interior finisher (60.7 percent at the rim and 38.8 on two-point jumpers as a senior). That sort of progression would very much help Clark's game, and a full offseason of strengthening, conditioning and simply practicing in a college environment will certainly help in that department.
The returns from a championship-winning first year were mostly positive. How Clark grows into a bigger role this offseason will determine his second-year success.
Story by Zach Pereles
Comments