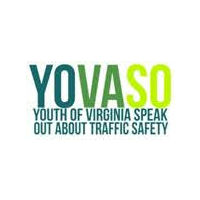 More teen drivers in Virginia will be involved in traffic crashes between the months of May and August than any other time of the year, statistics show. To help save lives and prevent such crashes during the high-risk warm weather months, Virginia schools are kicking off a statewide teen safety campaign this week to establish safe driving and passenger safety behaviors among youth and teens. The campaign, called "Arrive Alive," focuses on the increased risk of teen driver crashes during the spring and summer months and during prom and graduation.
Close to 50 high schools, middle schools, and youth groups are participating in Arrive Alive which kicks off March 19 and runs through May 4. During the campaign, students will work in peer-to-peer groups to develop programs and social media messages that influence their peers to be safer on Virginia roadways.  Middle school students will focus their campaign on how to be a safe passenger, pedestrian, and cyclist. High school students will focus on preventing such risky driver and passenger behaviors as texting and driving, speeding, driving with too many passengers, not wearing a seat belt, underage drinking and driving, and joy riding or "cruising."
"Arrive Alive provides a unique opportunity for teens to take the lead in making sure their friends and peers always arrive home safely," said Casey Taylor, YOVASO Program Development Coordinator.  "Students across the state will be actively promoting safe driving and passenger safety through innovative programs and exciting activities! Our goal is to reduce crash risks during this dangerous season for teens by keeping them informed and reminding them that it only takes one mistake to turn a good time bad."
Statistics from the Virginia DMV Highway Safety Office show that over the past five years, teen drivers in Virginia were involved in 42,033 crashes during the months from May through August, with 152 of those crashes resulting in a fatality to themselves or other motorists and passengers. During the same five-year period, 117 teens aged 15-20 were killed, 14,103 were injured, and 1,944 were seriously injured in crashes between the months of May and August.
Throughout Arrive Alive, students at participating schools will develop a creative project for the student body designed to influence change in risky driving behaviors and attitudes. In addition, schools will hold pre and post distracted driving checks as students arrive at school to determine the campaign's impact on reducing distracted driving.  Other activities will include wrecked car displays, mock crashes, pledge signing events, attaching "TXT LATER. BUCKLE UP NOW. ARRIVE ALIVE." cards to prom and graduation corsages and invitations, organizing safety rallies, and other creative messaging and programming.
Middle schools will focus their creative project around good passenger and pedestrian safety habits including seat belt use, bicycle helmet use, and how to be safe when walking and biking in neighborhoods. Middle schools will also complete a variety of safety programs, including pledge banner signings with students promising to be safe passengers, pedestrians, and cyclists.
Arrive Alive is sponsored by Youth of Virginia Speak Out About Traffic Safety (YOVASO) and the Virginia State Police, and is funded by a grant from the Virginia Department of Motor Vehicles (DMV) Highway Safety Office. In addition, grants from Allstate and State Farm will support prizes and educational incentives and materials. UNITE will donate the Arrive Alive Tour program to a non-competing school for their outstanding efforts during the campaign. The Arrive Alive Tour uses a high-tech simulator, and impact video to educate teenagers about the dangers of texting and driving and impaired driving. WFXR Television in Roanoke is the media sponsor for both the middle and high school campaigns.
For more information or to register your school or youth group for the Arrive Alive campaign, contact Casey Taylor, Program Development Coordinator at 540-375-3596 or visit yovaso.org. YOVASO is Virginia's Peer-to-Peer Education and Prevention Program for Teen Driver and Passenger Safety and is a program of the Virginia State Police. Membership in YOVASO is free and open to all Virginia high schools, middle schools, and youth groups. YOVASO currently has 100 active member schools.