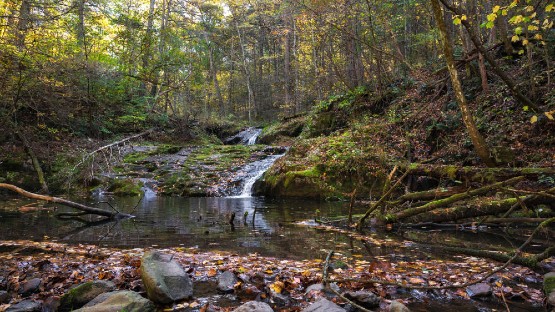 Nearly 1,000 acres of woodlands, including the headwaters of Naked Creek in the Tanners Ridge area of Page County, are now protected as part of Shenandoah National Park.
The land, which will now be protected and preserved as public lands in perpetuity, was donated to the park by the Shenandoah National Park Trust.
"The Shenandoah National Park Trust is proud of the strong collaborations that have led to this momentous addition to the park," said Jessica Cocciolone, executive director of the trust, at a mountainside ceremony marking the donation held on Thursday. "These partnerships have ensured that this majestic property will be preserved for generations to come."
The Shenandoah National Park Trust worked with the U.S. Fish and Wildlife Service, the U.S. Department of the Interior Natural Resource Damage Assessment and Restoration Program, the Commonwealth of Virginia, and local partners and landowners to purchase three contiguous properties with funds from the 2016 DuPont environmental damage settlement.
Funds from the settlement were to be used for "land protection, property acquisition, and recreational and wildlife enhancements – riparian habitat along the South River or South Fork Shenandoah River."
The donated land is rich with history reflecting generations of family ownership and natural wonders, including waterfalls and sweeping views of the Shenandoah Valley.
Former landowners Camille Bradford, Carol Dean Campbell, Connie Dean Kerlin, and the Graves family have made the restoration and protection of these lands a priority by making their properties available for purchase.
"We are thrilled that the settlement funds enabled the addition of these lands to Shenandoah National Park," said Cindy Schulz, field office supervisor at the U.S Fish and Wildlife Service's Virginia Ecological Services Field Office. "Conserving this area meets the goals of the settlement by protecting tributaries to the South Fork Shenandoah River and providing and improving habitat for migratory birds, fish and other wildlife."
"We are honored to be entrusted with the protection of these lands for the American people," said Pat Kenney, superintendent of Shenandoah National Park. "We appreciate the willing sellers for their recognition of the importance of protecting these lands for future generations."