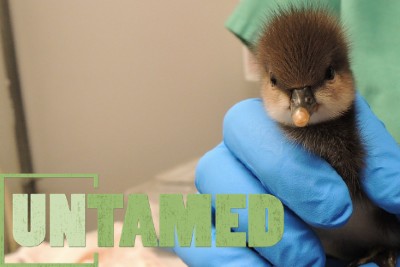 "All good things must come to an end," said Ed Clark, president and founder of the Wildlife Center of Virginia.
"UNTAMED," the television series co-produced by the center and the Richmond-based VPM, will not be renewed for a fifth season.
According to a news post on the Wildlife Center's website, production was cancelled due to funding and changing priorities for VPM.
The news came as a surprise to Clark, who posted to social media his disappointment.
"We were truly surprised to recently learn that VPM has decided NOT to renew 'UNTAMED' for a fifth season," he wrote. "This came in spite of great reviews, a loyal audience, three Telly awards and an Emmy nomination.
"We were well under way with planning season 5," he wrote, "which would have been our best by far. At least we are going out on the top of our game."
"UNTAMED" episodes focused on a variety of wildlife issues drawn directly from the stories of the thousands of wild animals in need of care that arrive at the Wildlife Center's doorstep every year. The stories of these animals illustrate the wider problems wildlife face – litter, pesticides, free-roaming domestic animals, habitat loss, and diseases – and challenge viewers to take specific actions to protect wildlife.
The current season and past episodes of "UNTAMED" will continue to air on VPM for much of the remainder of 2022 and will continue to be distributed by American Public Television to PBS affiliates nationwide, according to the center.
"While obviously disappointed that the series will be discontinued, the Wildlife Center remains committed to sharing stories of wildlife, highlighting conservation and environmental issues and how our actions impact wildlife and the landscape around us," according to the post on the center's website.
"The Wildlife Center will continue to explore outreach opportunities, including future collaborations with VPM and other media outlets," the post read.
The center will also continue to produce high-quality video content for its website and social media outlets.
VPM connects nearly 2 million people across Central Virginia and the Shenandoah Valley, according to its website. VPM operates public television stations VPM PBS, VPM Plus, VPM PBS KIDS, lifestyle channel VPM Create and international program channel VPM WORLD, as well as Richmond public radio stations VPM News (88.9 FM) and VPM Music (107.3 FM, 93.1 FM and 88.9-HD2). In the Northern Neck (89.1 FM) and Southside Virginia (90.1 FM), listeners receive a combination of news and music stations.
Viewers of "UNTAMED" who may wish to contact VPM about the cancellation can do so at https://vpm.org/contact-us