Sports
What did we just see? Five observations from #10 Virginia's 78-68 win over Virginia Tech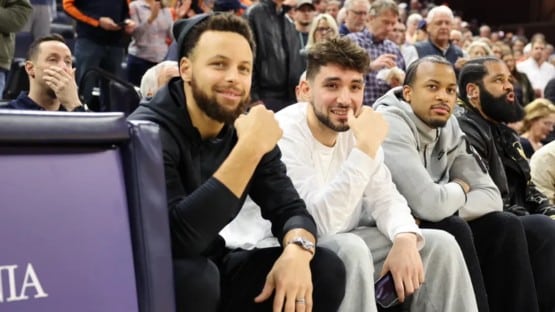 I wish I was a little bit taller
Kihei Clark, with Steph Curry courtside Wednesday night, might have gotten himself an undrafted free agent invite to the Golden State Warriors summer league roster in a few months.
Clark's backcourt-mate, Reece Beekman, is a projected first-round draft pick, and showed why, going for 11 points and seven assists, with a massive throwdown to end the first half that had Curry shaking his head in appreciation.
But it was Clark who consistently looked like the future NBA guy – yes, with the caveat that's obvious – with his 20-point, five-assist night in Virginia's 78-68 win over Virginia Tech.
Clark seemed to get into the lane and to the rim at will, shot 7-of-14 from the floor, was 2-of-5 from three, and pickpocketed Sean Pedulla in the backcourt in the first half so bad that Mike Young had power forward Justyn Mutts bring the ball up the court afterward.
The caveat: Clark is 5'9", 165, and that's being generous.
He'll get a look. The way he's playing this season, there's no way he doesn't get a look.
Shedrick got four (!) minutes
Kadin Shedrick had started every game this season as recently as last week. In his last two games, he's been on the floor for a total of nine minutes, and didn't get off the bench in the second half of either one.
Ben Vander Plas is clearly firmly entrenched in the starting lineup, that decision cemented when the small-ball lineup around BVP at the five rallied in the final 15:12 in the win over North Carolina on Jan. 10.
Vander Plas had 15 points, seven rebounds and three assists in 34 minutes in the 67-58 win at Florida State on Saturday, then had 10 points, seven rebounds and three assists in 29 minutes in Wednesday's win over Virginia Tech.
And when BVP had to go to the bench with an early foul, Tony Bennett went not to Shedrick, but to freshman Ryan Dunn, who had modest counting numbers – three points, three rebounds, three blocked shots in 24 minutes – but his plus/minus, at +15, stood out.
Shedrick got five minutes in the FSU game over the weekend, and just four Wednesday night, contributing a rebound and a steal to the effort.
Francisco Caffaro, who split time as the starter at the five with Shedrick last year, got his second DNP in a row, and third in five games.
It's looking more and more that Bennett has a set seven-man rotation, with Vander Plas starting at the five, Dunn backing him up, and Isaac McKneely being the guard off the bench – and Shedrick and Caffaro are to be used only in the event of an emergency, or foul trouble.
iMac: Doing more with less
Isaac McKneely took three shots from the floor in Wednesday's win, hitting two of them, and he was also 2-of-2 at the line.
That's seven points on three shots.
Over his last four, dating back to the Syracuse game, before which Bennett told him to take off the "parking brake," signaling to the freshman that he wanted him to be more aggressive, iMac has 33 points on 20 shots from the field.
In other words, the parking brake appears to still be on.
Below-average night from Franklin
Armaan Franklin had been averaging 15.5 points and 5.5 rebounds per game over his last six coming into Wednesday night.
His numbers in the win: 15 points (6-of-9 FG) and five rebounds in 32 minutes.
A below-average game for him, of late, anyway.
Nice night for Gardner
Jayden Gardner was Virginia's leading scorer (15.3 ppg) and rebounder (6.4 rebounds/g) a year ago, but his numbers are down this year as his minutes have diminished.
Which is why it was nice to see Gardner have a nice bounceback game in the win over Tech, scoring 12 points (5-of-6 FG) in 22 minutes.
In his last two, the wins over FSU and UNC, Gardner had put up just three points in each, getting 19 minutes in the win over the 'Noles and 15 minutes in the win over the Tar Heels.
Gardner is averaging 10.3 points and 4.8 rebounds in 23.5 minutes per game this season.
The minutes are noticeably down (he averaged 32.7 minutes per game in 2021-2022), but his shooting from the field is up a tick (52.6 percent this season, vs. 50.1 percent a year ago).
His usage is way down – Gardner averaged 12.5 shots per game last season, and is averaging 7.8 per game this season.