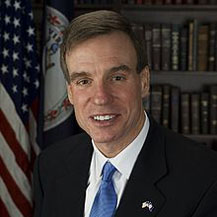 By a bipartisan vote of 95-3, the Senate has voted to approve legislation reauthorizing the Federal Aviation Administration (FAA) through 2017.  The bill authorizes increased funding to pay for runway and airport infrastructure improvements, reforms the FAA certification process so that the latest aircraft technology can be adopted quicker while maintaining safety, gives the FAA new authority to enforce safe unmanned aircraft system (UAS) usage, and contains important consumer protections such as requiring airlines to provide adequate disclosures about excess fees and add-on costs while flying.
The bill also includes provisions championed by Sen. Mark R. Warner (D-VA) to combat human trafficking in the skies, increase airport safety, promote use of unmanned systems technology, and extend the authorization of six FAA-designated UAS test sites – including the Mid-Atlantic Aviation Partnership at Virginia Tech – for five years. The bill also maintains the current flight rules in place for Reagan National and Dulles International airports, preventing changes that could have significantly overburdened flight operations at Reagan National.
"Unmanned systems technology has the potential to be as much of a game-changer as cell phones were in the eighties and early nineties," said Sen. Warner. "This bipartisan FAA bill makes important investments in drone safety and expanding the use of unmanned systems, which have the potential to totally transform every aspect of our lives and our economy."
Added Sen. Warner, "I'm pleased that we successfully pushed back on last-minute efforts to add more long-haul flights out of Reagan National Airport. Maintaining the existing perimeter rules protects the business plan that balances the flow of passengers and flight traffic at each of the three major airports serving the Northern Virginia region. This careful balance also has allowed a thriving economy to grow around the international gateway that Dulles Airport provides. I'll remain vigilant in opposing harmful changes as the FAA bill moves toward final passage."
With each reauthorization of the FAA bill, lawmakers from Western states typically attempt to add significant traffic at National Airport, which can result in congestion and delays at National while disrupting the balance of traffic at Dulles International Airport and Baltimore/Washington Thurgood Marshall International Airport. In the past, these changes to flight rules have negatively impacted the health of Dulles International and led to longer lines and strained facilities at Reagan National. Working with Sen. Tim Kaine (D-VA), Sen. Warner fended off multiple amendments that would have made harmful changes to the current flight rules in the Washington region, helping to preserve an appropriate balance among the region's airports and protect Dulles' status as an international gateway.
Following the recent terror attacks in Brussels, the bill also provides additional resources to strengthen security at airports like Dulles and Reagan, especially in non-secure "soft" target areas like check-in and baggage claim.
Sen. Warner also successfully introduced amendments to the FAA bill to promote the safe use and commercialization of unmanned systems technology. Working with Sen. John Hoeven (R-ND) and several other bipartisan colleagues, Sen. Warner secured an amendment on the floor to extend the authorization of the sixFAA- designated UAS test sites for an additional five years. As the FAA works on safely integrating UAS, or drones, into our national airspace, these test sites provide crucial research and testing for safety purposes and for the development of this new game-changing technology.  Virginia Tech currently operates one of these six test sites in partnership with Maryland and New Jersey, the Mid-Atlantic Aviation Partnership (MAAP).
The Senate-passed FAA bill also authorizes a pilot program to increase testing of drone mitigation technology at selected airports, something Sen. Warner called on the Department of Transportation to do almost a year ago.  After Sen. Warner urged FAA to adopt this technology, the FAA conducted limited testing at one airport on technology that could assist in preventing unsafe operation of drones near airports that has resulted in numerous "near-misses" with commercial airliners.  The FAA bill would expand this pilot program to additional airports to speed adoption of this technology.
The FAA bill also includes legislation to help prevent human trafficking. Sen. Warner and Sen. Amy Klobuchar (D-MN) introduced the standalone Stop Trafficking On Planes (STOP) Act last month to require airlines to provide training for flight attendants and certain other airline industry employees to recognize and report suspected human trafficking to law enforcement. Sens. Warner and Klobuchar worked to include language modeled on the STOP Act in the FAA bill because flight attendants, through their interactions with large numbers of air travelers, are uniquely positioned to identify potential victims and help bring human traffickers to justice.
The Senate legislation now heads to the House of Representatives, which has been attempting unsuccessfully to move forward on its own version of a bill to reauthorize the FAA.