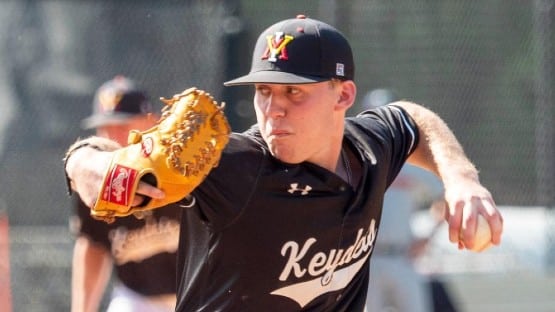 I picked this year to step down as one of the ESPN+ voices for VMI baseball, which is having its best season in forever heading into this week's SoCon Tournament.
The Keydets were over .500 as recently as two weeks ago, and will open the SoCon Tourney in Greenville, S.C., on Wednesday as the #5 seed with a 26-28 record overall, and a 9-11 record in league play.
These guys, as VMI teams of recent vintage, can rake – ranking sixth nationally with a .324 team batting average, 16th nationally with a .535 slugging percentage, and 27th with a .411 on-base percentage.
And they own the basepaths – the Keydets have stolen a D1-high 189 bases, 27 ahead of the field in 2023, including a school-record 14 steals in a 15-4 win over Norfolk State on March 19, in which VMI stole nine bases in the second inning.
Yeah.
Two guys are over 30 steals (Ty Swain: 33, Justin Starke: 31), and three others are over 25 (Brett Cook and Trey Morgan with 26 each, Zac Morris with 25).
There are four guys with double-digits in homers: Starke and Cole Garrett with 13 apiece, Cole Jenkins with 11, Morris with 10.
And six regulars are hitting .300 or better, led by Starke's .390 (with a slash line of .390/.453/.667).
Pitching, as usual, is an issue. The staff has the disadvantage of pitching the lion's share of its games in hitter-friendly Gray-Minor Stadium, so the 7.38 staff ERA needs as big ol' asterisk beside it.
The hurlers have done just enough to push first-year head coach Sam Roberts, a 2011 VMI alum who spent five seasons in the Oakland A's farm system, then spent six seasons as an assistant on the staff of former head coach Jonathan Hadra, to a nice inaugural season.
And I missed it all, after stepping down from my job in the booth following an eight-season run.
I'm beginning to think that maybe I was just bad luck or something …