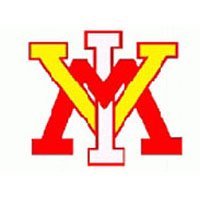 Liberty pitcher Trey Lambert pitched a shutout, scattering six hits as his Flames defeated the VMI Keydets, 5-0, in the opener of a Big South baseball series contested Friday night at Liberty Baseball Stadium in Lynchburg, Va. The game was VMI's first at the facility and the announced crowd of 2,792 was a new attendance record for the building, just over a year old.
Reed Garrett and Lambert both put up zeros in the first two innings, but Liberty (23-8, 9-1 Big South) broke through for two runs in the third inning. Garrett struck out red-hot second baseman Ryan Seiz with one out, but Becker Sankey singled through the left side to drive in two runs and give the Flames a lead they would not relinquish. Liberty then added single runs in the fifth, sixth and seventh en route to the win.
The Keydets (16-11, 6-4 Big South) were held to seven baserunners and advanced only four of those into scoring position in suffering just their second loss in the last nine games.
On the mound, Lambert moved to 7-1 while Garrett took the loss to fall to 4-3. The VMI right-hander gave up four runs on eight hits over six innings, striking out five and walking one.
After taking a 2-0 lead in the third, Liberty added on in the fifth. Ashton Perritt led off with a single and Will Shepherd bunted the ball down the third base line. David Geary charged the play aggressively on a ball that appeared to have a chance to roll foul. Geary threw to first and Shepherd beat the play for a hit. The next batter, Dylan Allen, laid down a sacrifice bunt and Seiz followed with a RBI single for a 3-0 Flames' lead.
The Keydets put together their first rally in the sixth, when Tanner Dofflemyer walked with one out. Jordan Tarsovich followed with a bunt single, but Brandon Angus rolled into a 6-4-3 double play to retire the side. Liberty then tacked on a run in the bottom half on a groundout by Andrew Yacyk, making it 4-0.
VMI had one final chance against Lambert in the seventh, when Walter and Geary had back to back singles with one out. Will Connerley and Matt Winn were retired in succession, however, and the Keydets managed just one more baserunner the rest of the way. Liberty scored the game's final run on a seventh-inning Sankey double, accounting for the final margin.
Walter was VMI's lone player with two hits, while Shepherd led Liberty with a 4 for 4, two runs scored night. Eric Mayers extended his hitting streak to 10 straight games with a first-inning double.
VMI and Liberty return to action Saturday, doing battle in the middle game of their series at 3 p.m.