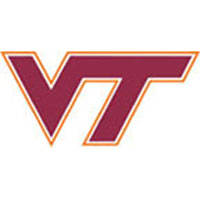 Mark Leal has been a sort of quarterback-in-waiting at Virginia Tech, biding his time behind 2014 fourth-round NFL draft pick Logan Thomas the past three years, holding the clipboard, taking second-team snaps, always at the ready, just in case.
Things don't always work out the way you expect them to, of course. Michael Brewer, the projected starter at Texas Tech heading into the 2013 season who dropped down the depth chart after suffering a preseason injury, is in Blacksburg, and because of an NCAA rule allowing players who have completed their undergraduate degree to transfer without having to sit out a year, Brewer is in the running to be the #1 QB despite not yet having taken part in anything formal in terms of practice with Tech football.
It's been a while since Virginia Tech entered a football season with this much uncertainty at the quarterback position. Factor in that Tech football is coming off a pair of subpar seasons (7-6 in 2012, 8-5 in 2013), and the stakes are high for coach Frank Beamer to get the call on who gets the ball for the opener with William and Mary right.
"We've got some really talented guys competing for the quarterback position. Not knowing who it is right now, we'd rather be on the other side of that," said Beamer at the 2014 ACC Football Kickoff in Greensboro, N.C., last week.
The coach said the goal is to "determine it pretty quickly in our preseason practice, get it down to a couple of guys, and get those guys some reps, because that's such a critical position."
"They need reps, they need timing with their receivers, they need to be in that huddle leading the offense and so forth, and the other players getting used to the quarterback also," Beamer said.
Just as crucial, or perhaps more so, is the need to jumpstart a running offense that was long the foundation for Hokie football, but has been stagnant the past two seasons. In 2011, Virginia Tech ran for 186.9 yards per game, and finished with an 11-3 record. The 2012 Hokies ran for 145.8 yards per game, and the 2013 team ran for an anemic 119.8 yards per game, 13th in the 14-team ACC.
"I think we're ahead of the last couple of years in the fact that we're further along in getting our running game back to where it needs to be," Beamer said. "I think the last couple of years we haven't been able to run it quite as well as we're used to at Virginia Tech, and having some experience at offensive line, some backups that are really athletic, some backups that are really athletic.
"I think we're going to be more explosive at wide receiver. Our tight ends, we've got three guys that can block you, but move out and maybe get matched up on a safety. Our running backs are going to be solid. Trey Edmunds is really coming along great. I think having people around that quarterback makes it a lot easier than it's been the past few years," Beamer said.
The lack of a sustained running game put more pressure on Thomas to contribute as a runner, which may have contributed to his numbers dropping from a stellar sophomore season that saw him complete 59.8 percent of his passes with a 135.5 passer rating to a 51.3 percent completion rate and 115.9 rating as a junior in 2012 and a 56.6 completion rate and 123.9 rating as a senior in 2013.
Accounting for sacks, Thomas ran the ball an average of 10.4 times per game in his Tech career. Mind you, he was playing quarterback.
"I don't think a quarterback should have to run as much as he did, just up the middle and take on three techniques, then have to read a defense and finesse-touch passes. It was tough for him to do. He certainly took a beating. We don't want our quarterbacks to have to work like that," senior wide receiver Willie Byrn said.
"It points back to a sense of urgency. We have to have a run game. We can't just rely on Logan to fall forward for two or three yards to get us that first down," Byrn said.
The two, the running game and the passing game, go hand in hand. First things first: Beamer needs to settle on a starting QB.
He's not tipping his hand on who will get the nod quite yet.
"You like for it to be settled on the field and not have to make a gut decision. But we'll see how this goes in the preseason and go from there," Beamer said.
– Column by Chris Graham