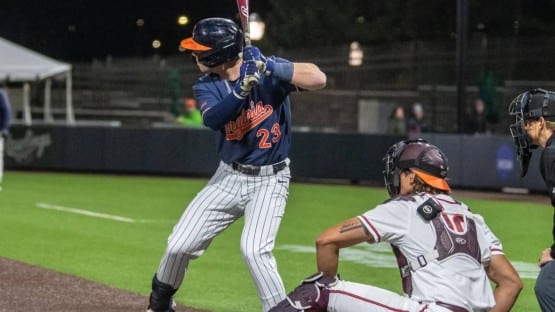 Virginia Tech got out to a big early lead, then held off a late rally from #5 Virginia in a 12-10 win on Saturday that evened the teams' weekend series.
The Hokies (16-10, 3-8 ACC) led 6-1 after two and 11-4 going into the fifth, knocking around UVA starter Connelly Early (6-1, 3.26 ERA), who gave up six runs on five hits in two innings of work.
The Cavaliers made a game of it late, scoring four in the ninth, and bringing the tying run to the plate, before Casey Saucke struck out swinging to end it.
Ethan O'Donnell recorded his second four-hit game of the season for Virginia (24-3, 8-3 ACC) after a 4-for-5 effort at the plate on Saturday. In two games this weekend against Virginia Tech, O'Donnell is 6-for-9 with two doubles, a home run and four RBI.
Jake Gelof hit his ninth home run of the season and 34th of his career to move into sole possession of fourth place on UVA's all-time home run list.
Gelof has homered in eight-straight ACC series dating back to last season.