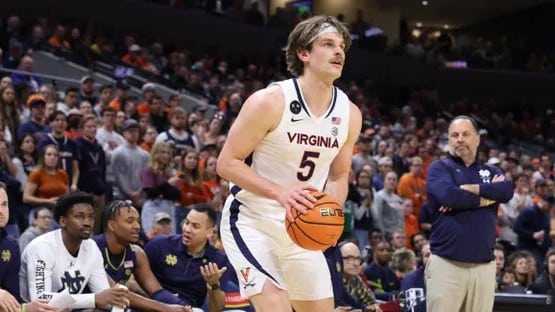 Virginia's first two games without Ben Vander Plas couldn't have gone any better. But the Cavaliers missed BVP in the ACC Tournament championship game loss to Duke, and they'd no doubt match up better with SoCon champ Furman in Thursday's NCAA Tournament first-round game on Thursday with him in the lineup.
"We're a different team," UVA coach Tony Bennett said. "You know, he was so versatile and could stretch the defense, pulled bigs out of the lane, he had a skill and a steadiness that, you know, he was a smart, sound player, strong, you know, so there's things that he did that we got used to. So, you missed those. And he played well in big games for us."
Vander Plas, a grad senior, had struggled in February as he dealt with a back injury, but the team seemed to play at a different level once Bennett inserted him into the starting lineup in mid-January, because of his tough interior defense and his three-point shooting at the five spot.
Vander Plas averaged 7.4 points and 4.6 rebounds per game this season, shooting 41.2 percent from the floor and 30.3 percent from three, before a freak injury in practice last week, a broken right hand, ended his college career.
"The practice before we're gonna get on the bus to go to Greensboro, you know, the day before we played, and just a fluke, you know, I can't remember, his finger hit someone's, back of Jayden's head or something happened," Bennett said.
That Virginia got three games in the ACC Tournament to work out the kinks without having Vander Plas available is a bit of a blessing.
"Seeing the guys respond, we got a really good lift from Kadin (Shedrick) and Papi (Francisco Caffaro), and then Taine (Murray) came in and, you know, obviously gave us a little more size, rim protection, certain things like that," Bennett said on Monday.
"It's just kind of finding those matchups and seeing what works, and again, who you're playing against," Bennett said. "I think we're a little different without Ben, but yeah, there's just some things that you kind of go to, and so I thought the guys responded well, and of course, he's missed, but responded well, without him. And actually, he had a successful surgery this morning. So that's good news. And hopefully, everything will be good with his right hand."
Furman, the first-round opponent, will go small, with Garrett Hein, a 6'9" senior, getting 21.6 minutes a game at the five spot, and the bulk of the rest of the minutes going to the Paladins' all-everything guy, 6'7" forward Jalen Slawson, who gets 15 minutes a game as a small-ball five surrounded by four guards.
Vander Plas was the best option for Bennett against four-guard lineups. Bennett could go with Shedrick, the more mobile of his two options as a true center, or use Jayden Gardner, a 6'7" forward, or 6'8" freshman Ryan Dunn as the small-ball center.
"We got nine able guys right now and counting, you know, the scholarship guys," Bennett said, "and they all got to be ready to go, and it will be a collective effort, because they're gonna make us guard with cuts and movement and, and clever stuff. So, guys like Lawson, but all their players, you have to really be ready for, because they all can shoot the three and put it on the floor with good movement."