Sports
Virginia struggles for answers in first game without injured star Mir McLean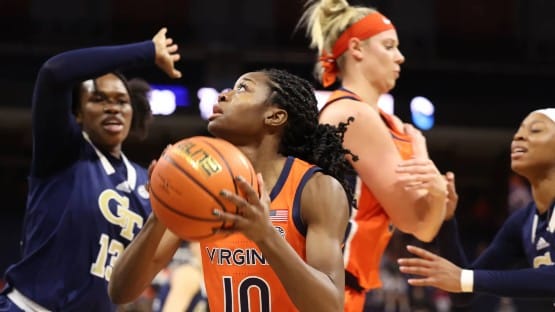 For Virginia head coach Amaka Agugua-Hamilton, her inaugural season in Charlottesville couldn't have gotten off to a much better start.
Inheriting a team that had won just five games in the previous two seasons, Coach Mox turned the program around in lightning-quick fashion, leading the Cavaliers to a 12-0 start and transforming the team culture in the process. Things were going smoother than anyone — probably even Coach Mox herself — could have imagined.
Then, everything came to a screeching halt this past Sunday afternoon. Midway through the third quarter of UVA's ACC contest against No. 10 NC State in Raleigh, Agugua-Hamilton watched as her top scorer and rebounder, junior Mir McLean, went up to secure a missed shot attempt.
Little did anyone realize that when McLean landed, it would be the end of her impressive 2022-23 campaign. The news broke afterwards that McLean had suffered a season-ending knee injury, sending shockwaves through the entire program.
On Thursday night, Virginia got its first taste of life without McLean, as No. 22 North Carolina came into John Paul Jones Arena hunting for its second ACC victory after dropping three of its previous four league games.
The Cavaliers (13-4, 2-4 ACC) needed to figure out how to replace even some of McLean's production, as she was averaging 12.2 points and 9.6 rebounds per game.
"It's a next-woman-up mentality," said Coach Mox. "Obviously, you hate to see a kid go down, and [McLean is] a big part of our family and we're gonna be there and support her through her injury, but it's the next woman up.
"The season isn't going to stop, because [injuries are] a part of the game, unfortunately, but I think everybody kind of rallied. It doesn't matter who it is. It doesn't matter if it's a starter or if it's the last person on the bench, it all matters. If somebody goes down with an injury, the team rallies, and I was really proud to see we did that, but you can't dwell on things like that."
As soon as the ball was tipped Thursday, it didn't take long for senior floor general Taylor Valladay to set the tone scoring-wise. The 5-foot-7 senior point guard, normally known more for her passing ability, knocked down a pair of 3-pointers in the game's opening minutes and finished the first quarter with a game-high 10 points.
Valladay came into the game shooting just 6-for-25 (24 percent) from beyond the arc on the season, but she wound up with a team-high 16 points (6-for-12; 2-for-5 from 3-point range), her highest-scoring output since Nov. 20 against American, when she scored a season-high 19.
Valladay showed what she was capable of back in February against Pitt, when she poured in a career-best 30 points on 11-of-19 shooting. With McLean out of the picture for the rest of the way, Valladay could certainly be one of her teammates who can help pick up the slack.
After picking up two early fouls, UVA forward Sam Brunelle provided a lift from 3-point land herself Thursday. The grad transfer from Notre Dame scored all 15 of her points against the Tar Heels from downtown, connecting on 5-of-7 on the day. Not only was the Ruckersville native able to do damage from long range, she also pulled down a game-high 9 rebounds to help make up for McLean's absence in that department as well.
Brunelle has by far been the Hoos' most consistent weapon from the outside thus far, hitting a team-high 29 triples on 72 attempts (40 percent) this season. The 6-2 forward momentarily stared dejectedly into space during the postgame press conference following the loss, knowing how close her team had just come to pulling off its biggest win yet without its MVP.
"We're a really tough team," said Brunelle. "We battled this game, and I think that's why I'm so upset, is because so many people stepped up today. So many people stepped up in every way… I'm just really proud of everybody for what they brought tonight, and we're gonna bounce right back."
UVA ultimately went cold and let a nine-point, fourth-quarter lead slip away, as Carolina closed the contest on a 22-2 scoring spurt to win by 11, 70-59, handing the Wahoos their third-straight loss, all of them against ranked conference opponents. But Coach Mox was pleased with the effort from all 10 players on the roster, all of whom contributed.
"I liked the progress that we're making," she said. "I thought our team battled, I thought we competed and really got better in certain areas, but we've just got to clean up some stuff."
Even without McLean, the Hoos were able to easily win the battle of the boards Thursday, 48-37, with seven players securing at least 4 on the evening, including all five starters. The combined team effort on the glass kept the Cavaliers in the top three in the ACC rebounding category with 45.4 per contest, just a shade off of Notre Dame's league-best average of 45.6.
"I'm very proud of that," Coach Mox said of the final rebounding margin. "We had 48 rebounds — that was definitely an emphasis, and it takes a team to do that, so that's why I said we did get better in certain areas. That was definitely one of them. I think people didn't really expect us to rebound like that. North Carolina probably didn't expect us to, but I know, I mean it's something that we stress every day in practice, in every drill.
"I know how capable we are to be a great rebounding team, so we can't go back from that. We've just got to continue to get better, but that was a huge improvement in that category."
Senior forward Camryn Taylor battled through some foul trouble of her own, but managed to chip in with 9 points and 4 rebounds in 17 minutes. She's now the team's leading scorer (12.5 ppg) and rebounder (5.6 rpg), and she'll also be counted on for her continued leadership and production as the season rolls along.
As for McLean, who had already missed the season opener after recovering from thumb surgery, she was there Thursday with crutches and a brace, cheering on her teammates and sporting a huge smile as she begins her quest to return to the court next season.
The Cavaliers will have their next chance to get back into the win column on Sunday at noon with a home matchup against a tough Boston College team (13-6, 3-3). UVA's final five opponents in the month of January (BC, Florida State, Notre Dame, Syracuse and Virginia Tech) have a combined record of 69-18 (.793 win percentage), so all 10 of McLean's teammates will have to continue to contribute towards the Hoos' ultimate goal of getting back to the NCAA Tournament in March.