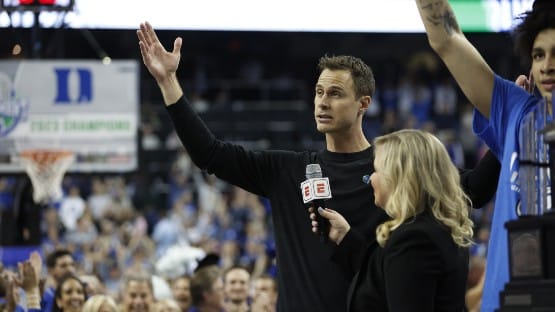 Duke fans wanted "revenge" for that "controversial" loss back in February in JPJ, and they thought they got it last night in Greensboro in the ACC Tournament title game.
Then the NCAA Tournament brackets were released Sunday night, and Virginia got the four seed in the South, and a matchup with SoCon champ Furman, while Duke got the five seed in the East, and a matchup with Oral Roberts, which might sound easy, but won't be.
Oral Roberts (30-4, NET: 36) made it to the Sweet 16 as a #15 seed in 2021, and the guy who fueled that run, 6'1" point guard Max Abmas (22.2 ppg, 4.0 assists/g, 44.1% FG, 37.7% 3FG), is still there, two years older, two years better.
The 4-13 game in Duke's bracket is Tennessee-Louisiana. Assuming Tennessee (23-10, NET: 4) gets to the Round of 32, Duke gets the team with the second-rated defense in the nation, per KenPom.com.
The Blue Devils' win over Virginia on Saturday night in Greensboro might help them get where they need to be mentally for Tennessee, so, there's that.
There are no easy games at this point, of course. What might look like a favorable bracket or tough bracket is only something for us to talk about until the ball gets tossed for the opening tips in the First Four on Tuesday, and after that, it's all a blur until the nets get cut down on a Monday night in a football stadium in April.
Still, there's no way you thought last night that Duke would get the shaft in terms of seeding.
"Revenge."
Ha.
No way this happens if the NCAA folks have to worry about feeling the wrath of a certain Coach K.