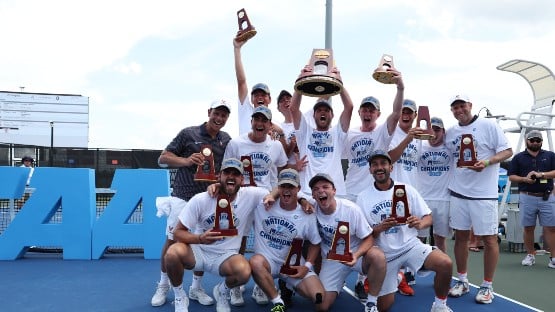 The fifth-ranked Virginia men's tennis team won its second straight national championship, and the program's sixth since 2013, with a 4-0 win over #3 Ohio State on Sunday in Orlando.
This is the second NCAA title won by a Virginia team this year, following the women's swim title in March, and the 33rd overall for Virginia Athletics.
The win was the 22nd in a row this season for UVA (30-4), which did not lose an outdoor match this season.
"It is a bit surreal like it was when we won last year," said head coach Andres Pedroso, who was the associate head coach for the 2013 NCAA champion squad, the program's first national champ.
Virginia won three straight from 2015-2017, adding the last two, in 2022 and 2023.
"I give all the credit to the guys, to the staff, the coaches," Pedroso said. "This is such a team effort. So many people have put so much time into a process like this. And the players are really special. really special. It was a tough semester. We went through a lot, and they just hung in there, and they trusted us. It's a credit to the way they were brought up by their families, to their character, to their values, and to what they prioritize in life. And I'm just so like lucky to have these guys, because they're just such a pleasure to coach. So, all the credit to the guys."
UVA and Ohio State had faced one another twice previously this season, with the Buckeyes winning 4-1 and 4-0 in those contests.
On Sunday, Virginia won the doubles point and took three singles matches in straight sets. Junior Iñaki Montes clinched the victory with a singles win on Court 2.
In doubles, the Cavaliers slipped into an early hole with Buckeyes Cannon Kingsley and JJ Tracy winning 6-3 on Court 3, but Chris Rodesch and Jeffrey von der Schulenburg evened it up with a 6-2 win on Court 2. Von der Schulenburg was serving up 5-2 and won a deuce point to take that match.
On the deciding court, Montes and William Woodall were serving up 5-3 and also won a deuce point to secure the win and tally the point for the Cavaliers.
Von der Schulenburg raced through a 6-2, 6-1 win against No. 22 JJ Tracy on Court 3 to put the Cavaliers up 2-0 before Court 6 had finished its first set.
Rodesch battled through his first set against No. 24 Justin Boulais on the top court, edging him out for a 6-4 win, and then took the second set 6-2 to put the Cavaliers ahead 3-0.
Montes also had a close first set against No. 11 Cannon Kingsley on court two, taking it 6-4. Montes led 5-2 in the second set and served for the win, firing off an ace to seal the championship.
"I think the difference between this year and last year might be that certain guys really stepped up, really stepped up," Pedroso said. "Alex Kiefer and Måns Dahlberg really stepped up for this team. William Woodall really stepped up for this team. We had our stalwarts in the top four, and those guys are always there for us. We just lean on those guys every single match, but those three guys really stepped up for us and even the guys on the sidelines: Doug Yaffa, Ty Switzer and our student manager Jacob Haley, who's just a blessing and just a difference maker. And so, guys stepped up this year big time, and they needed to, and that's probably what makes this year maybe a little bit more special."
Rodesch was named the tournament MVP. He was one of four singles players to earn All-Tournament Team honors. Virginia also had two of the three All-Tournament doubles teams, including Rodesch and von der Schulenburg at No. 2.
"The energy in doubles we had, we came out firing," Rodesch said. "We got those early breaks, and then we took doubles and first sets [in singles]. It just happened really fast. We had amazing body language all throughout doubles. Also in singles. Every time I looked over to Iñaki, the guy had his head up all the time. It gave me so much confidence. And then, at the end, it happened so fast. It's an amazing feeling."