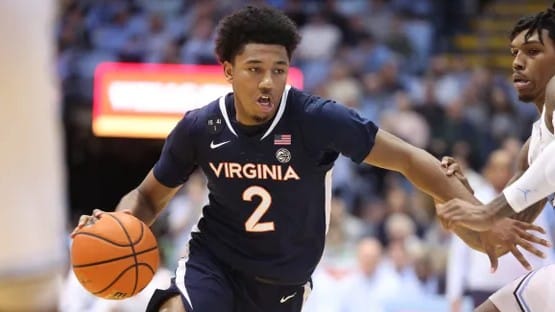 Something has been up lately with Reece Beekman, whose productivity has taken a nosedive since Virginia's 63-50 win over NC State back on Feb. 7.
In that one, Beekman scored 15 points on 6-of-11, all of the makes at the rim, and he also had four assists and three steals in 33 minutes.
Since that night, in what was maybe Virginia's most complete since its win over Baylor way back in mid-November, Beekman is averaging 6.4 points and 4.4 assists per game, and his shooting has fallen off the table – he's gone 12-of-48 from the floor (25.0 percent), 2-of-14 from three (14.3 percent), 7-of-24 on shots at the rim (29.2 percent) and 6-of-10 (60.0 percent) at the free-throw line.
Not coincidentally, Virginia's level of play has taken a plunge over the last five games – with escape wins over Louisville and Notre Dame, a bad loss at Boston College, and a frustrating setback at UNC.
Before this rough patch, Beekman had been averaging 10.2 points and 5.0 assists, and his shooting splits were 44.7 percent from the floor, 43.1 percent from three, 56.3 percent at the rim and 82.2 percent at the line.
That was the Reece Beekman that scouts were saying could be a late-first round NBA Draft pick this summer.
The one fighting through things right now isn't much more than a college-level replacement player.
One tough thing about covering UVA basketball is that we don't get much access to players and coaches to be able to ask what's going on, so in the case of what may be going on with Beekman, it's anybody's guess.
Remember that he had been dealing earlier in the season with ankle and hamstring injuries that limited him pretty much the entire month of December, but those issues seemed to fade into the background at the first of the year.
Just looking at the numbers, it's not as if Beekman is attacking less and settling more for contested jumpers, which could be a sign of something being wrong physically.
He's actually getting to the rim at a slightly higher rate – 4.8 shots at the rim per game in the last five, versus 3.8 shots at the rim per game in UVA's first 21 games.
And he's shooting only marginally more threes – 2.8 attempts per game over the last five, vs. 2.4 attempts per game in the first 21.
He's just making fewer of each type of shot.
Which, in turn, makes him less effective as a distributor, because opponents are less likely to send help when he's not something of an unstoppable force in one-on-one situations.
If there's anything to pin the blame on for Virginia's recent cold spell, it's Beekman's struggles over the past five.
When Beekman was at his best early in the season, and then again in January, Virginia was an elite team.
With Beekman at replacement level, Virginia is also a replacement-level team.