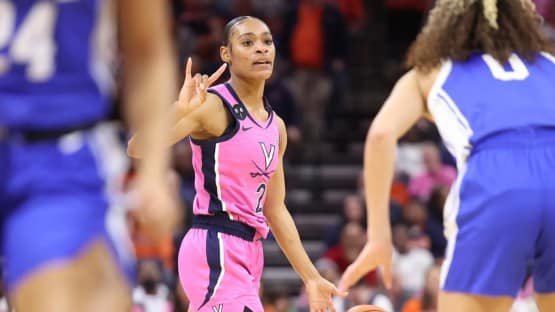 Virginia cut a 13-point third-quarter deficit to two late, but that was as close as things would get in a 56-52 loss to #9 Duke on Sunday at JPJ.
A 16-5 run got the game to 47-45 two minutes into the fourth quarter, but Duke (23-4, 13-3 ACC) was able to keep UVA (15-12, 4-12 ACC) at bay down the stretch.
Taylor Valladay led the Cavaliers in scoring for the second straight game, contributing 19 points. Grad student McKenna Dale, who was honored before the game for Senior Day, scored 10 points with five rebounds.
Elizabeth Balogun led the Blue Devils with 12 points. Celeste Taylor had eight points and 12 rebounds.
The 6,378 fans in attendance for National Girls and Women in Sports Day gave UVA the highest attendance for a non-field trip day game since having 6,450 fans at the Tennessee game on Nov. 20, 2011.
"First of all, I just want to say thank you to our fans. That turnout was amazing. We had 6,378 fans in this building, and that's just one step forward in the right direction. I think every game has gotten better and better, and our fan base, Wahoo Nation, has really come out and supported us.  I'm just appreciative of them," UVA coach Amaka Agugua-Hamilton said.
"As it pertains to our team in this game, this one hurts, obviously, to be four points away and that being a top 10 team in the country," Agugua-Hamilton said. "There's a lot to be proud of, but at the same time, we knew we had an opportunity right there that kind of slipped away. But there's things that grow. We'll go back, watch the film, learn. Some defensive possessions we blew up, sometimes we didn't execute. But overall, I told the team I was really proud of them in their fight."