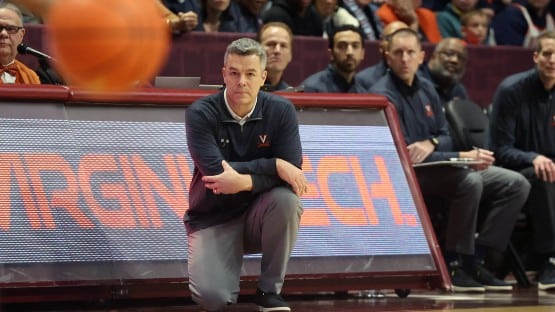 Over the 14+ years with CTB, one thing has always struck me as odd. He is such a good coach, fundamentally sound, and very stubborn. He makes changes, and some I probably do not recognize, but he never really stretches beyond his comfort level. He is a winner, so not really criticizing, but find it odd he is not willing to try.
Pushing the ball up the court.  If we run a lineup of Reece, Clark, Franklin, Dunn, and anyone else, that is a super athletic group.  IMO, when UVA walks the ball up, the other team has no worry about a quick bucket. They get a chance to set their D.  If we were to get the rebound, outlet-pass ahead to the wing, either attack the rim or have a player run to the block, rim, the defense has to work, be aware, create some confusion. 
UVA is so-o-o predictable on offense.  Become somewhat unpredictable – not saying be Roy Williams UNC, but do it some. We never look ahead for a break unless it is clear path. Unleash the hounds some. It is mentally uplifting for athletic players to run, and it energizes you on defense.
Stop always running Packline and let these same athletes make defensive plays, run more guard traps, like UNC used to run. Use your athletes to create some pressure. UVA likes to slow death you; speed it up every now and then. Could you imagine the shock if we put in a 1-3-1 trap, for example, the opponent would probably freak out since we don't ever do anything else.
This should not be hard to do. They have to practice transition offense every day. We do it in middle school.
This is not a plodding team and no need to abandon what we are good at but supplement.  It is a great way to jump start a team. We only do this when it is very late, and we are down more than 10.
– Russell Marks
What I'd say in response is, every coach approaches the game the way he or she wants to approach the game. For Tony, he values possessions on both ends of the floor, and floor balance.
His teams generally send one guy to the offensive boards, because he wants to limit breakouts by opponents.
On the defensive end, he sends everybody to the boards, to limit second-chance shots.
It's not that he doesn't let his teams run, but, no, you're not going to see a lot of running, and secondary breaks, like Carolina used to get from the Dean Smith days.
It's the way he coaches.
That said, he's adapted the offense a good bit the past few years, particularly this year. He used to run almost exclusively the mover-blocker, what they call in the NBA the sides offense. This year, he's using more middle-screen, high pick-and-roll and triangle looks, to take advantage of the skill sets of this team.
Two years ago, with the Huff-Hauser-Murphy group, he used a lot of five-high to have Clark penetrate and kickout to shooters for looks from three.
I think UVA fans can think that Tony is "stubborn" and set in his ways because we watch every play of every game, and see a lot of what looks like the same thing.
I submit to you that if you watched every play of every game of any other team, you would see something similar out of other coaches.
The old saying about writers is, write what you know.
I'd say that it works similarly for coaches. Coach what you know.